On September 6, 1875, Jesse James' 28th birthday, he and three other members of the James-Young Gang robbed the Huntington Bank in Huntington, West Virginia making off with cash estimated between $10,000-$20,000.
Jesse Woodson James  was born September 5, 1847 and died April 3, 1882. He was an American outlaw, bank and train robber, and leader of the James–Younger Gang. Raised in the "Little Dixie" area of western Missouri, James and his family maintained strong Southern sympathies. He and his brother Frank James joined pro-Confederate guerrillas known as "bushwhackers" operating in Missouri and Kansas during the American Civil War. As followers of William Quantrill and "Bloody Bill" Anderson. They were accused of committing atrocities against Union soldiers and civilian abolitionists, including the Centralia Massacre in 1864.
After the war, as members of various gangs of outlaws, Jesse and Frank robbed banks, stagecoaches, and trains across the Midwest, gaining national fame and often popular sympathy despite the brutality of their crimes. The James brothers were most active as members of their own gang from about 1866 until 1876, when as a result of their attempted robbery of a bank in Northfield, Minnesota, several members of the gang were captured or killed. They continued in crime for several years afterward, recruiting new members, but came under increasing pressure from law enforcement seeking to bring them to justice. On April 3, 1882, Jesse James was shot and killed by Robert Ford, a new recruit to the gang who hoped to collect a reward on James' head and a promised amnesty for his previous crimes. Already a celebrity in life, James became a legendary figure of the Wild West after his death.
Bob Powell of WV Public Broadcasting writes:
On September 6, 1875, two men walked into the Bank of Huntington with their revolvers drawn. Two others kept guard outside. The four men left the bank with $20,000 and rode south out of town.
A posse chased the bandits into Kentucky. Eventually, one was captured in Tennessee with some of the stolen loot. He was convicted and sentenced to the West Virginia Penitentiary.
Another gang member was wounded in Kentucky and later died of his injuries. The two others escaped with most of the money.
The robbery spawned a host of legends. The most popular theory is that the two who escaped justice were the notorious outlaws Frank James and Cole Younger. Local folklore suggests that after the Huntington robbery, Frank James took up residence in Wayne County, around Cove Gap, near the Lincoln County line. Using the alias Frank Morris, James supposedly tended a farm and made well-crafted furniture, some of which has been handed down through generations of Wayne County families. This idea, though, has been challenged since Frank James participated in several high-profile robberies over the next year with his brother Jesse.
Source: https://www.wvpublic.org/radio/2016-09-06/bank-of-huntington-robbed-by-james-gang-sept-6-1875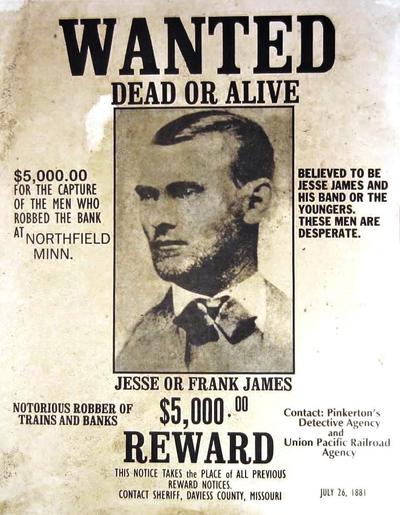 Newspaper Clipping On Jesse James and the James-Young Gang
Shirley Donnelly Columns On Jesse James
As a kid, it was a routine event to take a school outing to the museum owned by the Reverend Shirley Donnelly. There, I was able to lay my hand on a saddle that was claimed to be that of Jesse James. I can remember being awestruck over being able to touch a piece of that kind of history. My Pawpaw was an avid watcher of Western movies. I remember telling him about my reaching out to touch the saddle. I am curious, nowadays, to know where that saddle ended up.