Walter E. "Jack" Rollins was an American musician from Keyser, West Virginia.
Along with Steve Nelson, he co-wrote "Frosty the Snowman" in 1950.
Jack Rollins also wrote "Smokey the Bear" for the public-service mascot Smokey Bear, and co-wrote many country songs for artists such as Gene Autry, Hank Snow, George Jones and Eddy Arnold.
Frosty The Snowman Soundtrack Credits:
Frosty the Snowman
Written by Steve Nelson and Jack Rollins
Performed by Jimmy Durante and the Children
© 1951 Hill & Range Songs
From WV Public Radio:
Songwriter Jack Rollins died on New Year's Day 1973 at age 66. The prolific composer wrote more than 500 songs but will always be remembered for two holiday favorites.
Rollins was born in Keyser in Mineral County in 1906. As a youth, he wrote poetry with his mother, who encouraged him to become a songwriter. He left home at 18 and worked in a glass factory, as a railroad baggage handler, and in a carnival. On the side, he started writing lyrics as a freelancer before joining a New York publishing company in 1948. The next year, he co-wrote "Here Comes Peter Cottontail" with Steve Nelson. The song sold more than a million copies.
Then, in 1950, he and Nelson penned "Frosty the Snow Man," which was a big hit for Gene Autry. He and Nelson also wrote "Smokey the Bear" for the U.S. Forest Service. The character was originally known as Smokey Bear, but the composers added "the" to his name because it fit better musically.
Jack Rollins is buried in Keyser. He was inducted into the West Virginia Music Hall of Fame in 2011.
For more information on WV Native Jack Rollins, a WV Public Radio post can be found: HERE
The song recounts the fictional tale of Frosty, a snowman who is brought to life by a magical silk hat that a group of children find and place on his head. Frosty enjoys roaming throughout town with the children who constructed him, only stopping once at a crosswalk when the policeman directing traffic orders pedestrians to stop. Frosty finally says goodbye to the children and comforts them, promising he will be back again someday. Although Autry's original recording does not explain the reason for Frosty's departure later versions have lyrics that attribute it to the hot sun.
Although it is generally regarded as a Christmas song, the original lyrics make no mention of the holiday . The song supposedly takes place in White Plains, New York, or Armonk, New York; Armonk has a parade dedicated to Frosty annually.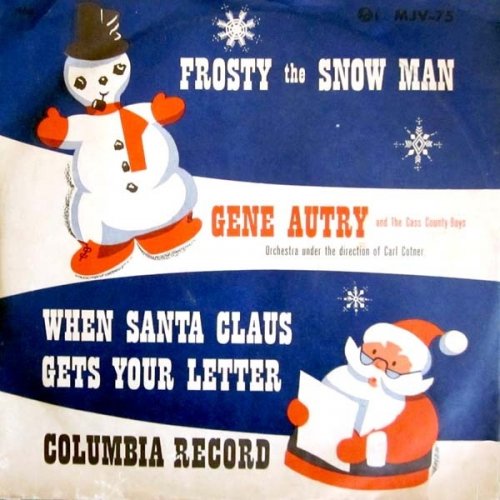 Frosty the Snowman was first recorded by Gene Autry and the Cass County Boys in 1950.
The Autry recording topped out at #7 on the Pop Charts that year and #4 on the Country Charts.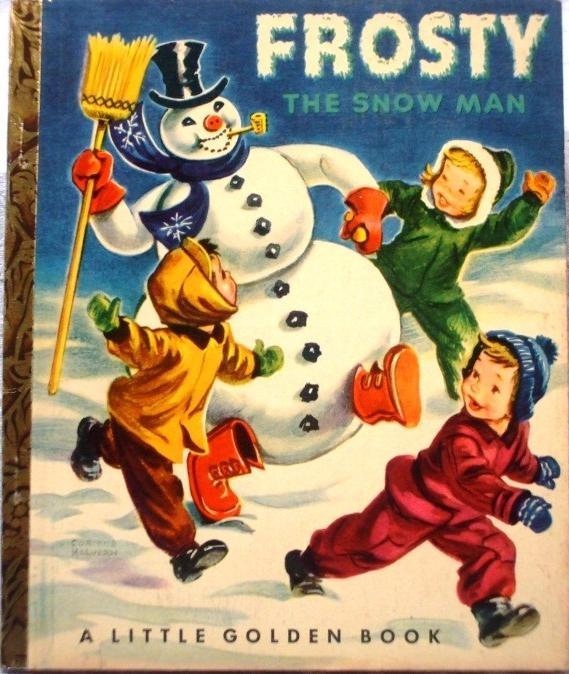 In 1950, the UPA studio brought "Frosty" to life in a three minute animated short which appears regularly on WGN-TV. This production included a bouncy, jazzy a cappella version of the song and a limited animation style reminiscent of UPA's Gerald McBoing-Boing.
The short, filmed entirely in black-and-white, has been a perennial WGN-TV Christmas classic, broadcasted on December 24 and 25, 1955 (and every year since) as part of a WGN-TV children's programming retrospective.
In 1979, Parker Brothers came out with a Frosty the Snowman board game.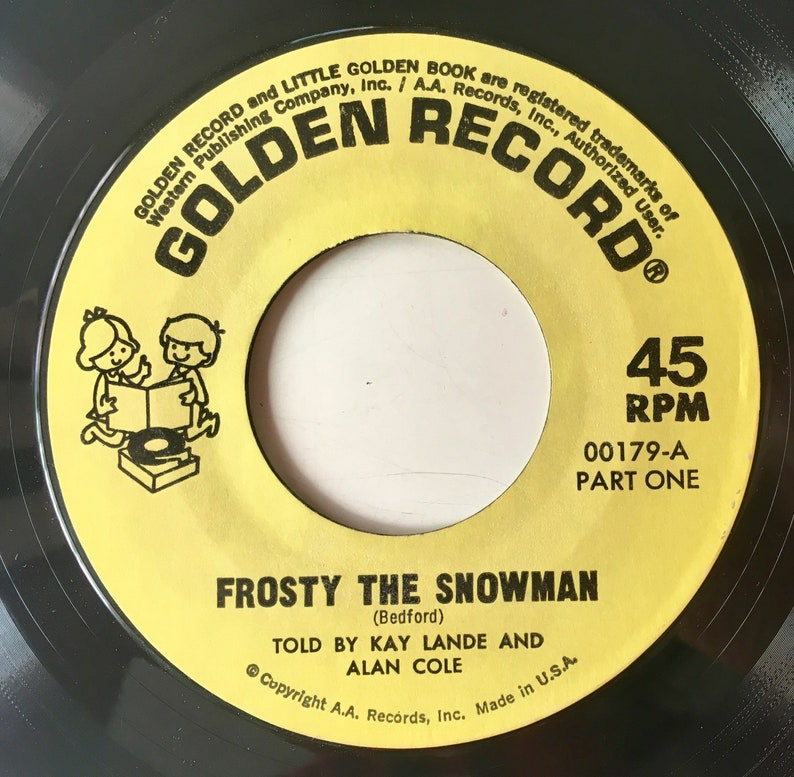 I had this version of Frosty the Snowman! A read along record. Great memories!
RCA introduced the 45 rpm single record in 1949 as a smaller, more durable, and higher fidelity replacement for earlier 78 rpm disks. Music singles on 45s served for decades as a low-cost entry point for young fans and turned single record sales into a prominent gauge of the popularity of songs and musicians.
The durability of the single record, which was later pressed at the standard LP rpm of 33-1/3, made it suited for use as a product for children, notably in sets with a matching illustrated book.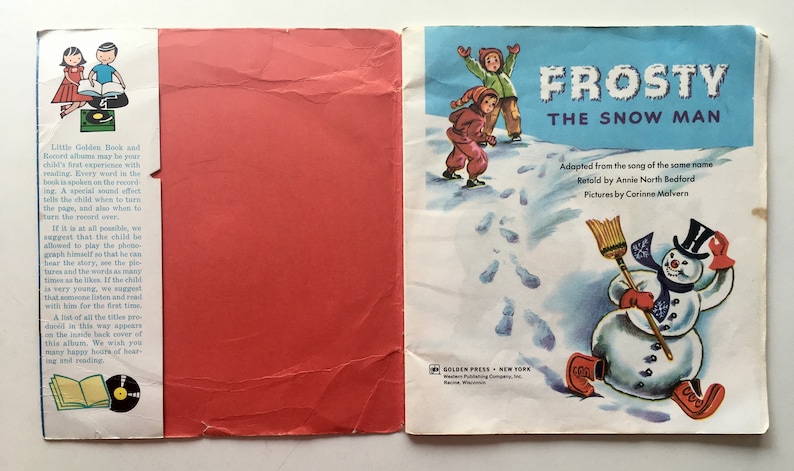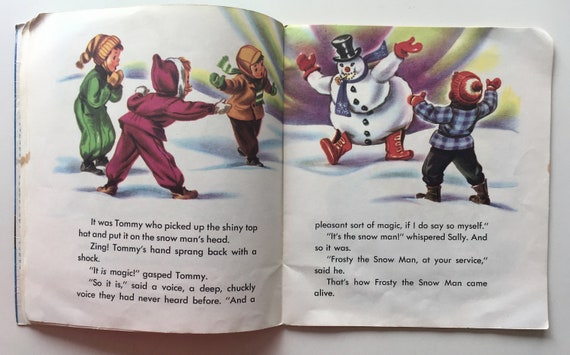 There were a number of artists who recorded the song:
TV Adaptation Frosty The Snow Man (1969):
In 1969, Rankin/Bass Productions produced a 25-minute television special, Frosty the Snowman, featuring the animation of Japanese studio Mushi Production, and the voices of comedians Jimmy Durante as the narrator, Billy De Wolfe as Professor Hinkle and Jackie Vernon as Frosty. Paul Frees and June Foray both also voice characters including Karen and Santa Claus in this animated special produced and directed by Arthur Rankin Jr. and Jules Bass.
June Foray provided the voices of Karen, the Teacher, and the other children. However, starting with the third airing of the special, most of her recordings as Karen and the other children were replaced with the voices of actual young children. Her voice however can still be heard in subsequent airings of the special in some of the other children's dialogue. No changes were made to the credits, so for many years the actual child actors remained unknown. However, in late 2017, sources started listing Suzanne Davidson, (best known as "Susie" in Miracle on 34th Street (1973) (the 1973 TV remake of Miracle On 34th Street) and as the first "Betsy" on As the World Turns (1956)) as the later Karen voice.
IMDb synopsis: A living snowman and a little girl struggle to elude a greedy magician who is after the snowman's magic hat.
Frosty the snowman was a jolly happy soul with a corn cob pipe and a button nose and two eyes made out of coal
Frosty the snowman' is a fairy tale they say. He was made of snow
But the children know how he came to life one day.
There must have been some magic in that ol' silk hat they found for when they placed it on his head he began to dance around, oh! Frosty the snowman was alive as he could be and the children say, he could laugh and play just the same as you and me…
Frosty the snowman knew the sun was hot that day. So he said, Let's run and we'll have some fun now before I melt away.
Down to the village with a broom stick in his hand. Runnin' here and there all around the square sayin': "Catch me if you can!"
He led them down the streets of town right to the traffic cop and he only paused a moment when he heard him holler stop!
Frosty the snowman had to hurry on his way. But he waved goodbye sayin', "Don't you cry, I'll be back again some day." Thumpety thump thump, thumpety thump thump! Look at Frosty go! Thumpety thump thump, thumpety thump thump! Over the hills of snow!
As for the lyrics, that is where the cartoon WOULD have ended. But the cartoon creators drew it out a little more to offer a heartwarming tale of a girl trying to make sure her friend finds a safe home.
Along the way they go for a train ride, have some sledding adventures…
And Karen almost freezes to death!
Frosty puts the needs of his friend before his own.
Of course there has to be a villain!
Dastardly!
And the heart-wrenching moment when a friend is lost.
But wait! There is hope! Santa arrives to save the day!
AND to give Professor Hinkle a what-for!
Until next year, BYE FROSTY!