Underneath the beast of a bridge known as the New River Gorge Bridge in Fayetteville, WV is another, much MUCH smaller bridge called the Tunney Hunsaker Bridge. That bridge plays a role in my life from when I was a child all the way through adulthood.  Daddy loved to take drives down Fayette Station Road and, to this day, if I am in the FayCo area, I try to swing by and do the same.  There is nothing like a beautiful spring day, when the trees are finally coming in full, making your way around the tight hairpin turns and feeling the shadow of the NRG Bridge as you weave your way back and forth beneath it.
From the (I believe) second Bridge Day in 1981:
The bridge was condemned for a number of years.  They tried to keep "us" out with barriers and chain link but it never worked.  There was a rope bound under the bridge for those brave (or stupid) enough to swing from it to the river below.  There were holes so big that you could put your legs through and swing them as you watched the river flow beneath you.
(Me trying to see through to the river, Summer 1988)
We never thought we would ever see the bridge reopened and restored in a way that would open a flow of traffic up to people from around the world and allowing them to see the beauty of Fayette Station.  But Mr Tunney Hunsaker saw the need for it to be restored. Because of his dedication to encouraging the state of West Virginia to realize the worth of having through-traffic on Fayette Station Road and the tenacity to fight for funding to see this happen, the State Senate named the bridge in his honor.
SENATE CONCURRENT RESOLUTION NO. 37
(By Senators Love, Schoonover and Craigo)
Requesting the Division of Highways to name the Fayette Station Bridge in Fayette County the "Tunney Hunsaker Bridge".
Whereas, Tunney Hunsaker came to West Virginia in 1954 to apply for a job as a Fayetteville police officer. After getting the job, Mr. Hunsaker quickly rose to the pinnacle of the Fayetteville Police Department when he was named acting chief three days after being hired and then later named chief; and Whereas, The dedication and commitment of Tunney Hunsaker to preserve, protect and defend the citizens of Fayetteville continued throughout his career, which spanned thirty-eight years as chief of the Fayetteville Police Department; and Whereas, Tunney Hunsaker had been a Golden Glove boxing champion while in the United States Air Force. After becoming police chief in Fayetteville, he renewed his interest in boxing and became West Virginia's Heavyweight Champion in 1959; and
Whereas, Tunney Hunsaker traveled to the National Golden Gloves Championship in Louisville, Kentucky, in 1960. On October 29th, he fought Cassius Clay, who would later come to be known as Muhammad Ali, the heavyweight boxing champion of the world. After six rounds, Tunney Hunsaker lost the bout to Clay in a decision; and
Whereas, Tunney Hunsaker brought to the attention of government officials the need for reopening Fayette Station Bridge following its closing. His concern and tenacity for the continuation of the Fayette Station Bridge brought about its repair and reopening; therefore, be it Resolved by the Legislature of West Virginia: That the Legislature hereby requests the Division of Highways name the Fayette Station Bridge in Fayette County the "Tunney Hunsaker Bridge"; and, be it Further Resolved, That the Legislature hereby recognizes the outstanding contributions of Tunney Hunsaker to the residents of Fayetteville, West Virginia, by his service as police chief for thirty-eight years and the prominence he carries with him for being a notable figure in the world of boxing; and, be it Further Resolved, That the Clerk of the Senate is hereby requesteddirected to forward a copy of this resolution to the Commissioner of the West Virginia Division of Highways and Mr. Tunney Hunsaker.
Who was Tunney Hunsaker, you might ask?  Some might tell you of his years of service as a Fayetteville City Police Officer, known widely for directing traffic into the football games on a Friday night, or leading a parade or keeping Fayetteville safe.  Others would tell you of the love of his church, the Church of the Nazarene, where he was a beloved Sunday School Teacher.  But, worldwide, he is known as the man who fought against Cassius Clay (later known as Ali) in Clay's first professional bout.
Tunney Hunsaker did not win that bout.  Ali would go on to be one of the greatest of all times.  Tunney's record would include 33 professional fights with the first half of career dominated by losses.  The second half he was in his groove and saw the most wins.  His overall record would be: 17 Wins (8 knockouts, 9 decisions), 15 Losses (7 knockouts, 8 decisions), 1 Draw.  His career would be cut short due to a severe head trauma.
According to wiki: After the fight Hunsaker said, "Clay was as fast as lightning … I tried every trick I knew to throw at him off balance but he was just too good". In a thumbnail profile of the fight the following January, young Cassius was reported as having remarked that Hunsaker's style was far different from what Clay had been exposed to as an amateur and Olympian; the young fighter admitted to nervousness going in, and that Hunsaker's aforementioned pro style, had given him trouble. This respect appears genuine, as it was lasting—in his autobiography, Ali said Hunsaker dealt him one of the hardest body blows he ever took in his career. Ali and Hunsaker became good friends and stayed in touch over the years. Hunsaker said he did not agree with Ali's decision to refuse military service, but praised him as a great humanitarian and athlete.
…
His career ended after a boxing-related head injury suffered on April 6, 1962, in Beckley, West Virginia. Rushed to a Beckley hospital, Hunsaker was in a coma for five days during which he underwent two brain operations. Hunsaker suffered the physical effects of his last match for the rest of his life. He was 74 when he died after a long battle with Alzheimer's disease.
Early 90s from a newspaper article at the time of Ali's death: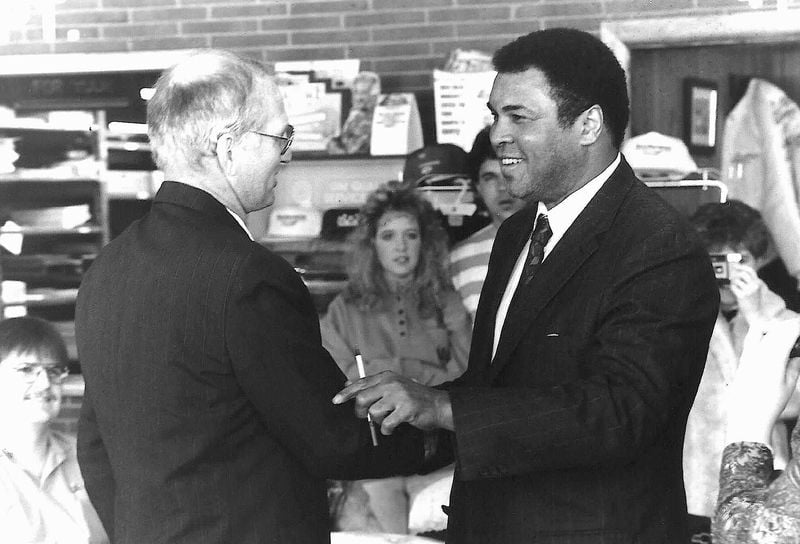 There are few articles on Ali's rise to fame which do not start with Tunney. He was loved by his community and the legacy of his bridge continues today.
For those of you who are interested in Genealogy, his Find a Grave is HERE.
Some local newspaper articles leading up to the fight: From left to right below: 12 Oct 1960 Beckley Post Herald Page 10 and 27 Oct 1960 Charleston Daily Mail Page 8
A video clip of the fight:
02 Nov 1960, The Raleigh Register, Page 10: