On November 2, 1952 , the dedication ceremony for the new tri state airport was held at the facility, just outside of Ceredo. There, then governor Okey Patteson addressed the crowds eager to see the new addition to the world of aviation.
Per Wiki:
Tri-State Airport (IATA: HTS, ICAO: KHTS, FAA LID: HTS) (Milton J. Ferguson Field) is a public airport in Wayne County, West Virginia, United States, three miles south of Huntington, West Virginia, near Ceredo and Kenova. Owned by the Tri-State Airport Authority, it serves Huntington; Ashland, Kentucky; and Ironton, Ohio. It has heavy use for general aviation, and after the withdrawal of Delta Air Lines in June 2012, is down to two airlines, one of which provides nationwide connecting service.
Federal Aviation Administration records say the airport had 115,263 passenger boardings (enplanements) in calendar year 2010, 10.9% more than 2009. The Federal Aviation Administration (FAA) National Plan of Integrated Airport Systems for 2017–2021 categorized it as a non-hub primary commercial service facility.
The first airline flights were Piedmont DC-3s around the end of 1952; Eastern and Allegheny arrived in 1953. Eastern left about the end of 1972; Piedmont and Allegheny remained through the 1989 merger. The first jets were Piedmont 737s in 1969 (the runway was then 5280 feet).
On November 14, 1970, in what has been recognized as "the worst sports related air tragedy in U.S. history," Southern Airways Flight 932, a chartered Southern Airways DC-9, crashed into a hill just short of Runway 12. The flight carried 37 members of the Marshall University "Thundering Herd" football team, eight members of the coaching staff, and 25 boosters. There were no survivors.
Dedication of Tri-State Airport
Huntington Herald-Dispatch
November 3, 1952
---
12,000 See Airport Dedication
Huntington Puts Itself on Air Map
Randolph Paints Bright Outlook
By Robert D. Horan
Huntington placed itself on the aviation map of the world yesterday when planes from two major airlines landed and officially opened the new modern $1,500,000 Tri-State Airport during dedication ceremonies.
Between 10,000 and 12,000 persons were at the airport to hear dedicatory addresses, inspect airplanes, watch model plane flying and take rides in private planes. State police stationed along the airport access road kept traffic flowing steadily despite the large number of cars.
The first commercial plane to land at the field was an Eastern Airlines Silver Falcon. The twin-engine ship touched down at 1 P. M. after circling the field for two hours waiting for the smoke from forest fires to lift. The plane carried company officials and employes, and a Huntington pilot :Captain Eugene R. Scott: was at the controls.
At 2:55 P. M., a Piedmont Airlines DC-3 landed bearing the president of the firm, Tom Davis. Piedmont will begin regular service from the Airport stating this morning.
Eastern also has been certified to operate here, and All American Airways has an application before the Civil Aeronautics Board.
Early yesterday smoke from the forest fires in the area obscured the airport, but shortly before noon, a breeze from the west cleared the atmosphere and bright sunshine, blue skies and mild temperatures favored the occasion.
Greetings were extended visiting West Virginia and out-of-state officials by Gov. Patteson, who said, "most certainly, the completion of this airport will aid materially the growth of this already outstanding city."
Governor Patteson praised air travel for its speed and comfort, and added, "I am looking forward to the day when all major West Virginia cities will have regular airline service.
"Boon to Tri-State"
The dedication address was delivered by Jennings Randolph, assistant to the president of Capital Airlines, and a former congressman from West Virginia's Second District.
"I hope this is the beginning of thousands upon thousands of comfortable and safe flights which will move out of here in the future," Mr. Randolph said, adding that it is "a boon to the hundreds of thousands of persons who live in this area."
Mr. Randolph described how public opinion of air travel has changed from 25 years ago, when flying was regarded as an adventure and persons only flew because of necessity, to today, when "they don't think anything about it and get on a plane just as they would get on a train."
"We've made a lot of progress in the past 25 years, and we will make as much progress in the next 25," he said, adding, "it is not fantastic to think of traveling 600 miles per hour through the air in the near future.
"Expanding Service Air Of Companies"
Jennings Randolph, assistant to the president of Capital Airlines, delivering the dedication address at Huntington's new Tri-State Airport yesterday afternoon, pointed out that $913,000,000 have been spent since 1933 on construction of new airports in the United States, and there are 1,204 planes in regular use in schedules airline flights.
"There were 586 cities in the United States being serviced by schedules airline flights," he said," an now, with Huntington, there are 587."
Twenty-five years ago, Randolph continued, 5,840 persons were flown in one year. From October 1, 1951, to October 1 this year, 26,500,000 persons flew in regularly scheduled flights. During the same period, there were only six accidents with 140 passenger fatalities. He said the low accident rate was reflected by the insurance companies permitting passengers to increase their liability for flights from $25,000 to $50,000.
Ainslie Presides
"A sound civilian and commercial airline operation will bring about better understanding with other countries in the world and will develop more neighborly attitude," he said.
Master of ceremonies for the dedication was Lee S. Ainslie, chairman of the dedication committee. The invocation was given by Dr. S. Roger Tyler, rector of Trinity Episcopal Church. Elmer Canterbury, president of the Huntington Chamber of Commerce, introduced Mr. Randolph.
Mr. Ainslie introduced members of the Tri-State Airport Authority and other persons who were responsible for the building of the new field as follows:
President James Brady of the Tri-State Airport Authority; Frank Heiner, member of the Cabell County Court and vice president of the port authority; Walker Long, treasurer, also representing the Huntington Industrial Corp.; Don Baker, secretary and manager of the Huntington Chamber of Commerce; S. P. Fry, representing the Wayne County Court; Otis Cavendish, Jr., representing the Huntington City Council; Major Payne; Major Paul Shingleton of Kenova; Henry J. Stark, past president, Town Council of Ceredo; Oscar Watts, past president, Wayne County Court; Okey Keadle, ex-officio member and attorney for the authority; Fred R. Palmer, engineer; Frank S. Whitney, airport manager; Rep. M. G. Burnside.
James M. Donohoe, Cabell County Court, Artie Holley, past president of the authority; Hugh Stillman, president of the Huntington Industrial Corp.; William B. Anderson, vice president of the Chamber of Commerce; B. C. McGinnis, treasurer of the chamber; State Road Commission, H. K. Griffith; J. N. Wallace, SRC district engineer; C. W. Koontz, state tax commissioner; Colonel Hubert H. Stark, director of the West Virginia Aeronautics Commission; George W. Pride, assistant director of the commission; Jay McCausland, of Clarksburg, flight inspector for the Civil Aeronautics Administration.
Kenneth Stettler, William Summer and Don Boyd, members of the 1948 airport fund committee; Robert Shank, operator of the first airport in Huntington at Kyle Field; Colonel J. H. Long of the Huntington Publishing Co.; Circuit Judge C. W. Ferguson of Wayne and Mingo Counties; Lieutenant Commander Joseph E. Pillow, district airport engineer; Raymond Brewster, editor of The Herald Dispatch; Clyde Wellman, editor of the Advertiser; W. T. Raymond, assistant vice president of Eastern Air Lines and R. W. King, EAL general traffic manager.
Airline Officials
Arriving aboard the Eastern plane were M. M. Frost, vice president of EAL, representing the president, Capt. Eddie Rickenbacker; R. W. King, general traffic manager; W. T. Raymond, assistant vice president; George Martin, assistant supervisor of ground operations in Miami; Pat Pasquale, ground facilities engineer; Sam Noble, display material manager; Alva Sole and C. C. Heffner, Post Office inspectors from Washington, and Earl Whetsell of Charleston, district sales manager.
Aboard the Piedmont ship were Tom Davis, president of Piedmont; R. D. Hager, vice president; H. K. Saunders, director of operations, and E. L. Turner, Civil Aeronautics Authority air carrier aviation safety inspector from Winston Salem, N. C.
Because there are no weather facilities at the field at present, Joseph H. Richter, meteorologist from the U. W. Weather Bureau at Kanawha Airport in Charleston drove here to handle the flights.
While the Eastern plane circled the field, Mr. Richter was talking to Charleston by phone, giving pertinent weather data:visibility, wind and other conditions:which were being relayed by radio from Charleston to the pilot.
The pilot of the Eastern Silver Falcon was Captain Eugene R. Scott, a former Huntington resident who now lives in New York. He was graduated from Huntington High School in 1938 and attended Marshall College. The pilot was John Kleven of Long Island, N. Y.
Captain Scott, praising the field, said "it's very fine. Of course, it will be a lot better when we get the other runway and some radio aids for navigation." He said the runway is smooth and the approaches good.
Frequent Service
Mr. Frost said, "I'm very happy Eastern Air Lines is certified to serve here. I think you have a great community and we're looking forward to when we can start regular service. We feel when we go into a community that we are a party with it and we want to help and do what we can to be of assistance."
Mr. Davis said of Piedmont, "we have been looking forward to this field for a mighty long time. There's no question about the need for good and frequent air service in Huntington. Piedmont is anxious to provide the most frequent and most convenient schedule it can for the needs of the air traveler of Huntington."
He said Piedmont has grown from four airplanes when it began service in February, 1948, to 13 and another will be added by Spring. He said 3,000 passengers were flown during the first month and 23,000 were flown last month. Piedmont serves seven states: West Virginia, Ohio, Kentucky, Tennessee, Virginia, North Carolina and South Carolina.
Inspect Planes
After the dedication ceremonies, thousands watched model plane exhibitions of speed and stunt flying, went through the airplanes or inspected the administration building.
Vice Chairman Jess Boyd of the Airport dedication committee announced the proceedings before and after the ceremonies. He was aided in keeping spectators off the runways by members of the Huntington city police.
State police and Wayne County deputies directed traffic. Ceredo-Kenova High School and Huntington East High School bands played during the day.
Prior to the dedication ceremonies, the Hotel Frederick was host to the committee with a "brunch":combination breakfast and lunch. Special buses left the Frederick at 1 P. M. for the airport.
Looking up the history of Milton J Ferguson, who the airport is named after, I found this article:
The history of Colonel Milton J. Ferguson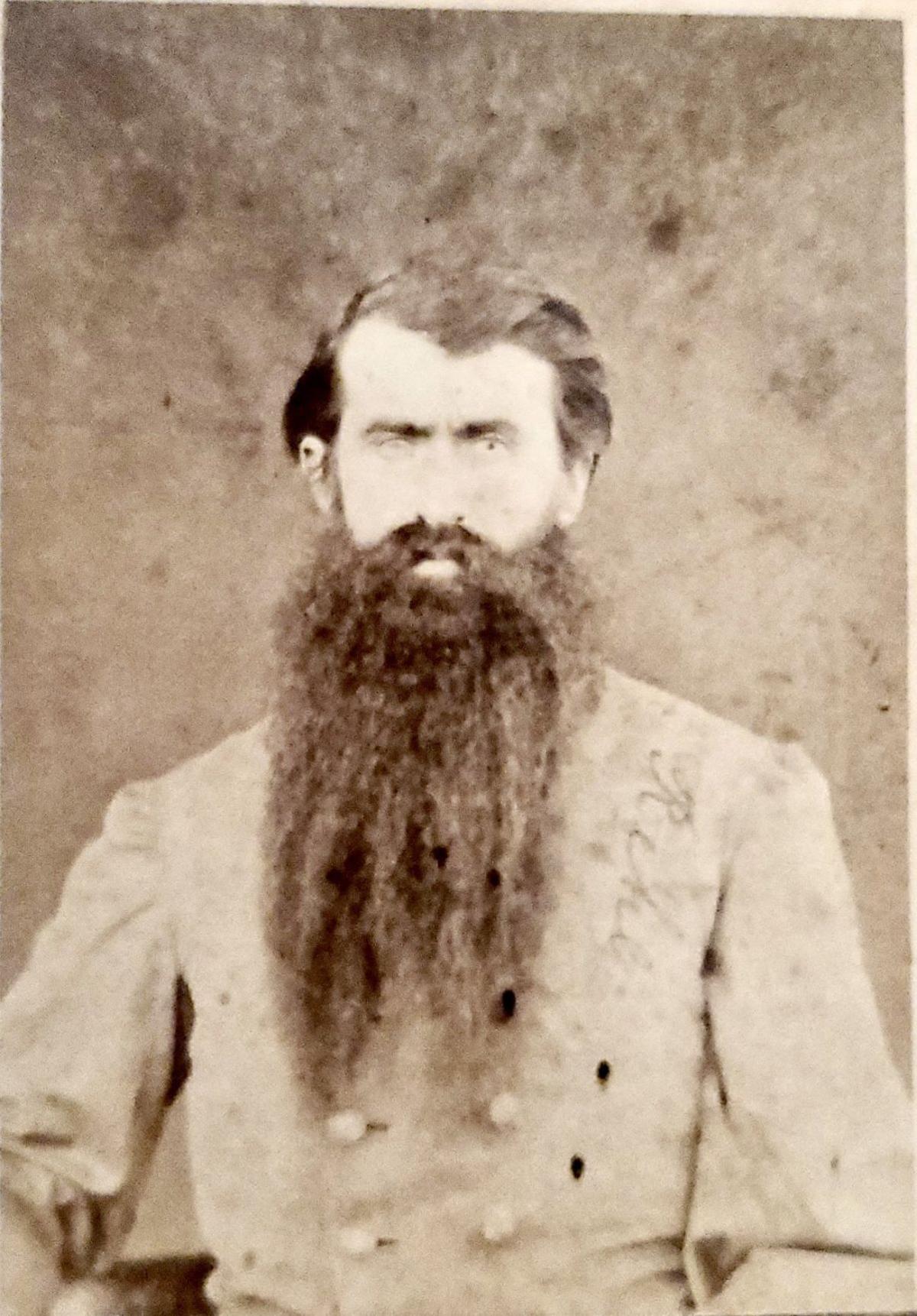 By ROBERT THOMPSON For Wayne County News
Aug 5, 2020
Milton Jameson Ferguson was born in 1833 on his father's farm at the Forks of Twelve Pole Creek just south of present-day Wayne. He grew up in the countryside around the developing community where his father was a prominent businessman and political leader.
By 1850, at age sixteen, Milton was attending Marshall Academy outside Guyandotte. He soon took up the study of law and was admitted to the Virginia Bar in 1853 at age twenty. He immediately began practicing law in the village of Trout's Hill (now Wayne).
In 1857, Ferguson was appointed colonel of the 167th Regiment of Virginia Militia which represented Wayne County. His status continued to grow, and he entered politics as his father had done. He attended numerous state and local conventions as a delegate representing the Wayne County Democratic Party.
In 1861, just prior to the eruption of the Civil War, Ferguson was elected prosecuting attorney of Wayne County.
As colonel of the local militia, Ferguson was quickly drawn into the war when it erupted in the spring of 1861. In July, as Union soldiers from Kentucky invaded Guyandotte, the residents of Barboursville called on the Wayne County militia for defense, and Colonel Ferguson led approximately 300 local farmers to the town. They stationed themselves on the hill overlooking the Mud River covered bridge and awaited arrival of the Kentuckians.
A sharp skirmish erupted; however, when the Kentuckians charged the hill with bayonets, the untrained militia broke and ran. Ferguson continued on with some members of the militia and participated in the Battle of Scary Creek later that month. After the battle, he returned home to Wayne County and was arrested by Union officials in Ceredo. After several months in prison and then on parole, Ferguson came home and began recruiting troops for the Confederacy.
In September of 1862, he raised Ferguson's Battalion of Virginia Cavalry, and it was combined with other units in January of 1863 to form the 16th Virginia Cavalry. Ferguson was elected colonel of the regiment.
That summer, the 16th Virginia Cavalry was assigned to the cavalry brigade of Gen. Albert G. Jenkins to spearhead Robert E. Lee's invasion of Pennsylvania. Colonel Ferguson quickly became Jenkins' second in command and was ordered to raid the Pennsylvania countryside with several hundred men separately from the the main brigade. Ferguson's men skirmished with Union militia on June 30 at Sporting Hill outside the Pennsylvania capital of Harrisburg. It was the northernmost engagement of the Gettysburg campaign.
The following day, the brigade moved south to join the massive battle already taking shape at Gettysburg. When General Jenkins was wounded on July 2, Colonel Ferguson took charge of the brigade and commanded it through the remainder of the battle. On the third day of the battle, Ferguson's men had a vicious fight with Michigan Cavalry led by George A. Custer. Ferguson had to withdraw when his men began running low on ammunition. With Lee's army defeated, Ferguson and the brigade performed rear guard actions protecting the Confederate force as it moved back into Virginia.
General Jenkins remained out of action through the fall, and Ferguson remained in command of the brigade. In November, Ferguson commanded it in the Battle of Droop Mountain where they were once again forced to retreat.
That winter, Ferguson was ordered to take 150 men of the 16th Virginia Cavalry into the Big Sandy Valley and harass Union forces there while also acquiring supplies to send south. He made his camp on Lick Creek south of present-day East Lynn in Wayne County. Ferguson's men performed splendidly. At one point, they captured a Union general on the Kanawha River and later routed a company of Union soldiers in Lawrence County, Kentucky.
In response, Union forces were constantly trying to captured him or destroy his force. In February of 1864, Col. George Gallup led 425 Union men from Louisa, Kentucky into Wayne County and located Ferguson's camp. They surrounded it and opened fire into the camp at dawn. Several Union prisoners in the camp were killed by friendly fire as were about four Confederate soldiers. Thirty-eight men including Colonel Ferguson were taken prisoner. The so-called Battle of Murder Hollow had been the costliest battle of the war for the 16th Virginia Cavalry, and they suffered more casualties there than at Gettysburg.
Colonel Ferguson and many of the prisoners were eventually confined in Fort Delaware Prison. Eleven additional men of the 16th Virginia died in the prison due to horrid conditions. Ferguson was later transported to a prison ship off the coast of Hilton Head, South Carolina and confined for several weeks before being exchanged in Charleston, South Carolina. He returned to Virginia and served out the rest of the war with Jenkins' Brigade. When Lee surrendered at Appomattox, Ferguson fled into the hills and eventually surrendered at Charleston in May of 1865.
Unable to return to his profession due to restrictions placed on former Confederates, Milton J. Ferguson moved across the Big Sandy River and settled in Louisa, Kentucky. In 1868, he was elected circuit judge in Kentucky. Ferguson took an interest in industry and began working to get a railroad built into the Big Sandy Valley. He also dealt heavily in land. Sadly, he passed away in 1881 at just age forty-eight having lived an incredibly full life.