Go ahead and chuckle, I am totally fine with it. Yes, that is me on the left, all tutu-wearing, saggy stockings at the knees, total ballerina. My Ma, tired of my cumbersome tomboy ways, thought that enrolling me in Tap, Jazz and Ballet classes would overcome my desire to explore the woods, fight with boys and need to collect action figures.
She was so wrong.
Well, the ballet and jazz were not my favorite things in the world. But those tap shoes… Get out of here! Do you know how much noise those can make? We had a cement patio – it was my stage. For fifteen minute increments, that is. That was the duration of Ma's nerves before calling out to me to do some random chore that materialized out of thin air.
A few years down the road I would see the movie White Nights and realize how I missed my chance. Who knows how far I could have went if only Ma would have supported me to a greater extent! ha
If you are a girl who grew up in the Oak Hill (Fayette County) West Virginia area in the mid 1970s, you more than likely have heard of the Karenettes! That was Mrs Fama's claim to fame in EVERY parade in both Fayette and Raleigh counties!
Looking it up, there is still an active Karen's Academy of Dance in Beckley. That makes my heart happy.
For us Oak Hill girls, her studio was just under the Frank Mauritz photo studio. As you can see by the program from my one and only dance recital, I was in her 1976 class.
In the end, I would hide under a table and miss something like 90% of the dances I was supposed to be a part of. The boys from my neighborhood thought it would be funny to come to the performance and see me "dancing around in my underwear with floofy lace stuff". My dance career was short lived but oh, what an impact it had on me.
By Audrey Stanton
Jan 12, 2008
If Karen Fama had followed in her grandfather's footsteps, she might still be a regular sight at parades — only she'd be waving from a fancy vehicle rather than marching and twirling down the streets.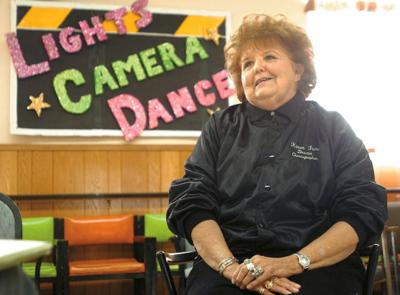 Her grandfather was J. Alfred Taylor, a well-known newspaper publisher who lived in Fayette County and, between 1916 and 1927, served in the West Virginia House of Delegates and then the U.S. House of Representatives. Fama, however, marches to the beat of a different drummer. And the footsteps she's followed have given her life a cadence centered on children, faith, music and dance.
Nevertheless, she's just as famous as a politician. Her Karenettes — a Beckley-based dance-drill team and drum corps she started in 1974 — have garnered awards at dance and drill team competitions from coast to coast.
"I had to have drums. I always said I would never go with just music," Fama said.
And when the drum corps isn't drumming, its members may be dancing, serving as partners to girls for special performances.
Stages at Disney World, Carnival Cruise Lines, Branson, Mo., Hawaii, Rhode Island, New York, Atlanta, the Grand Ol' Opry and two World's Fairs have welcomed the troop's dancing, baton-twirling and gymnastics. They've also performed in Canada, Mexico and the Bahamas. Festivals and parades throughout West Virginia, Virginia, Tennessee, Ohio, Louisiana, the Carolinas, Maryland, Pennsylvania and Washington, D.C., and other states have exchanged huge trophies for appearances by the Karenettes.
They've been featured at Wheeling's Festival of Lights, Buckhannon's Strawberry Festival and as entertainers at The Greenbrier. Since 1975, they've performed and won awards at the Forest Festival in Elkins, where Fama, coincidentally, was crowned a princess in her teens. Even a St. Patrick's Day parade in Washington, D.C., honored them with its coveted Marshal's Award.
"We don't do it for the trophies," Fama said. "The kids just love performing and being with friends, and we just love doing it."
Perhaps you've seen them, accompanied by a giant cardinal mascot named Nettie, during Beckley's Christmas or Kids Classic parades. And if you've seen the Karenettes, you've seen Karen. For 33 years, she has marched, danced and twirled alongside this elite group from her even larger school of students at Karen's Academy of Dance.
For 51 years, Fama has directed her own dance studio, teaching tap, ballet, jazz, gymnastics, ballroom, point and baton, to the many students who have passed through its doors — originally in Oak Hill and later in Beckley. Fama and her husband, Andrew, have two children of their own, Ron and Andy Jr., but that doesn't stop Karen from embracing as many others as she possibly can.
"When they walk in this studio, it just lights up my world," she said. "I love children. They're precious. I just love them all."
And they love her. Fama recalls one little girl many years ago telling her she wanted to put her in bronze. When Fama asked why, the little girl responded, "So we could keep you just the way you are."
At 71, Fama has been the way she is for as long as she can remember. When she was 6 months old, her father was calling her his "little ballerina," based on all the bouncing she liked to do. By the age of 3, she was studying dance in her hometown of Oak Hill with Joyce Pugh, then in Beckley with Rose Harvey.
As a young teen, she served as Harvey's student teacher. And between the ages of 16 and 20, she spent summers in New York under the tutelage of Jack Stanley, who taught Fred Astaire and Gene Kelly. She even traveled and performed with the Rockettes for a short season in the early 1950s.
But it was her love for twirling the baton that led her to give her dance studio a unique offering. Fama was a majorette during her entire time at Collins High School, where she was also crowned Miss Collins High. She served as head majorette for two years and continued to march and twirl when she attended Concord College.
All the while, she attended a Methodist Church in Oak Hill, lending her strong alto voice to the choir and playing the piano. It wasn't uncommon to hear her young voice on local radio. She's never stopped singing, either. These days her voice can be heard among the choir of Beckley's United Methodist Temple, where Fama also volunteers with children's and youth choirs. Performances by those younger groups are never without Fama's original choreography.
In fact, liturgical dance — interpretive movement set to religious music — is one of Fama's favorite types to teach. The choreography just comes naturally, and the dancers with whom she shares it add a special touch to worship services throughout the region.
"That's God's gift to me," she said. "I don't even have to think about it. … What a way to serve the Lord. The liturgical is special to me, and it's special to the students and families here. This is a close, family-oriented studio."
Part of the studio family is Lanny Okes, an educator who had expected to spend one summer at Karen's Academy of Dance teaching gymnastics. That was 1977. He never left. Fama is quick to credit him with everything from set design to travel plans. He's also pretty good on the snare.
Families of students — some of whom travel from as far as Rainelle and Meadow Bridge — have been known to raise hundreds and thousands of dollars to support the group's travels, Fama said, adding that students' instruction isn't limited to dance. They're also taught manners and etiquette to ensure they're well behaved during all their travels, and, according to Fama, they always are.
"I teach them that love for self and God is No. 1. No. 2 is that then dance will come along," she said.
Also important to the studio family are the number of volunteers who are always there to lend a hand. For instance, her church youth group recently painted the studio, and families of her dancers redesigned her front office.
"Everyone has always been so supportive," she said. "I just love them. I just love what I do."
So much so that she doesn't see herself leaving them any time soon.
"As long as God gives me my health, I hope to be here, doing this," she said.
In pulling up as many clippings on Mrs Fama's dance classes, I found that she was married to Andrew Fama of the Fama Shoes in Raleigh County.
His obituary reads:
Andrew Lee "Andy" Fama
Andrew "Andy" Lee Fama, Sr., 80 of Beckley went home to be with the Lord on Sunday, November 4, 2012 after a long illness.

Andy was born on November 13, 1931 in Mabscott, WV to the late Filippo "Phillip" Fama (1886-1963) and Annuziata "Nancy" Sparacino-Fama (1902-1978). He was preceded in death by his siblings, Patsy Fama (1918-2011), Andrew "Andy" Fama (1925-1930), and Constance "Connie" Fama (1926-1930).

Those left to cherish his memory include his wife of 57 years, Kay "Karen" Taylor-Fama (B. 1936) whom he married on January 2, 1956 in Beckley, Raleigh County, WV (per WV Marriage License Register, Raleigh County, WV, 1955, Page 59, Line 16, Application Date: December 28, 1955); two sons, Andrew Lee Fama, Jr. and wife Susie Fama, children Chrissy Fama-Phillips, Timmy Fama and wife Christa Fama, Ashlee Fama; and Ronald Lee Fama and wife Brenda Fama, children, Conner Fama and stepchildren, Kristin Vandall and Erica Meadows; brothers, George Joseph Fama (1920-2013) and Tony Fama (1923-2018) and their families; sisters, Rosa Agnes Fama-Shucet (1917-2018) and Mary Constance "Connie" Fama-Bowden (1934-2018) and their families.

He was known through the years for his smiling face and caring heart, and many people recognized these attributes through the family-owned business, Fama's Shoe Store. He was a business graduate of West Virginia University and he also served in the Army where he was stationed in Italy.