The first story from Shirley Donnelly gave me a right good chuckle. The subsequent conversation regarding silver dollars interests me a great deal though. Husband and I collect coins. It is a relaxing hobby that helped me when my eyes were having trouble with blurry vision. It forced me to focus on fine print (and took my eyes of computer-related hobbies for a bit or rest).
Do you collect coins? Do you have a favorite? This is a photo of my two favorite pieces in my collection:
Below is the scanned article along with the transcribed text. I hope you enjoy the read.
Some Fayette County history came to mind when press reports carried news of the death of Dr Philip F Schaffer, Charleston dentist, who died in Montgomery, Alabama, on Jan 23.
Dr. Schaffer was the son of Leo Shaffer, former mayor of Thurmond. This is the mayor of the noted old river town who became celebrated because of a trial of a dead man which he held at Thurmond city hall. As the story goes, a dead man was found under the bridge over New River at Thurmond. How he came by his death was never established that I know. But the corpse was brought before Mayor Shaffer and an inquest was duly held. Search of the dead man's clothing revealed that he had a revolver in his pocket and a considerable sum of money on his person. While it was standard operating procedure in those touch-and-go times for a man in those parts to go armed it was, nevertheless, a violation of the law.
Mayor Schaffer was not one to wink at a violation of the law, it seems, so he slapped a fine on the dead man for carrying a pistol in the mayor's bailiwick. Amount of the fine assessed the dead man was the extent of the wad of money that was found in his pocket, according to the report that has long been one of the legends of this area. Thus divested of his money the dead man was turned over to the Fayette County authorities who accorded him the pauper's burial somewhere on the river bank in the vicinity of where he came to his untimely end.
_____
Dr JB Thompson, Oak Hill Physician, is an avid coin collector. He has a sack of coins = a small sack, I mean – which he has garnered after he got going in public life as a medicine man. One coin that the Oak Hill practitioner has was thought by him to be worth at one time about $1-500. Regretfully, he stated to me in our brief conversation the other day, "It isn't considered that valuable now.""
Dr Thompson's reference, as I recall the story, was to the 1963 New Orleans silver dollar. Our little chat led me to look up some of the story of the famous dollar from down New Orleans mint way. Not long ago government mint at Philadelphia put into circulation an avalanche of seven kinds of silver dollars which had been minted at the New Orleans mint from 1898 through 1904. Releasing of these silver dollars had numismatic word by the ears of nobody's business. Several of those varieties of silver dollars were looked upon as quite rare when found in uncirculated condition. Outstanding was the 1903-O dollar. It was listed in some rare coin catalogues as worth $1.-500. One of these had fallen into Dr Thompson's hands and was considered a big piece of luck. Even the 1898-O dollar was listed at the nifty price of $350. That "O" following the dates on the coins shows it was minted in New Orleans.
_____
By the by in 1904 operations in coinage at New Orleans was stopped by the government. That year the mint closed down for good, 1904, a lot of 1904-O dollars were coined. Even the 1904-O silver dollar was shown recently to have a value of at least $300.
Coin dealers, after the Philadelphia dollars release, offered a set of the seven varieties for $100 or less. This lowered the price of the hitherto coveted 1903-O silver dollar to a paltry $12 to $15 a piece! Some bid the price up as much as $50 though. Down went the price of the "O" dollars when it was learned that more than two million silver dollars had been struck in 1903 at New Orleans. This was played down when word got out that most of them were melted back into silver bullion. However, this latter rumor was false and it was then brought out subsequently that the big bright coins had not been melted into bullion but stored away instead.
It was estimated by one whose opinion was respected that some three million of the "O" dollars had been loosed on the land by the Philadelphia mint. This was what pulled the rich rug from under the $1,500 New Orleans 1903-O dollar. They were released by the Federal Reserve in bags of 1,000 dollars each.
_____
In our east no little sentiment attaches to the silver dollar. Once one falls into someone's hands it is kept and treasured as a precious keepsake. None have been minted since 1935.
Nearly 50 million silver dollars are now in government storage. No more will likely be struck in this century as the supply on hand is enough to meet the public demand, especially at Christmas time when silver dollars are used as gifts. Those fifty million dollars in storage do not include the millions now in circulation.
Collecting silver dollars is a fascinating hobby and is carried on by numerous personas. A silver dollar is all I ever give as a Christmas gifrt for a number of reasons. Everyone knows where the fift dollar was bought. The color is always right and it always fits. It is not necessary to go and exchange it. The recipient knows what it cost. It is useful and also valuable. You don't have to wrap it up. It is pretty and you like it. Don't you will you had a million of them?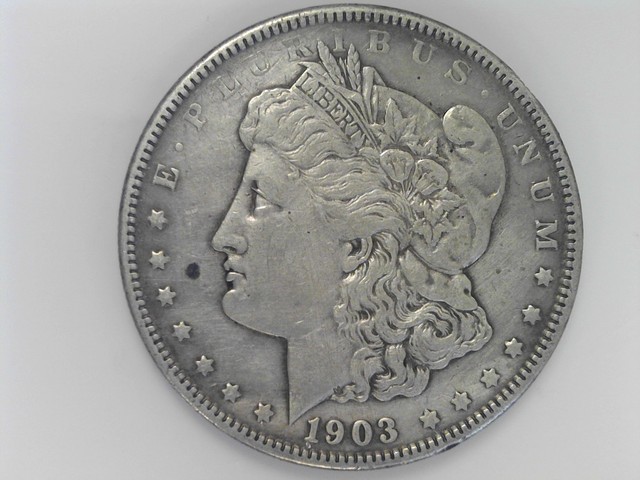 Additional Reading:
The Incredible Tale of the 1903-O Dollar
Price History For The 1903 Morgan O Dollar
Per Wiki:
The dollar coin is a United States coin with a face value of one United States dollar. It is the second largest U.S. coin currently minted for circulation in terms of physical size, with a diameter of 1.043 inches (26.5 mm) and a thickness of .079 inches (2 mm), coming second to the half dollar. Dollar coins have been minted in the United States in gold, silver, and base metal versions. Dollar coins were first minted in the United States in 1794. The term silver dollar is often used for any white metal coin issued by the United States with a face value of one dollar, regardless of whether it contains that metal. While true gold dollars are no longer minted, the Sacagawea, Presidential, and American Innovation dollars are sometimes referred to as golden dollars because of their color.
Dollar coins have never been popular in the United States since the removal of precious metal from coins. Despite efforts by the government to promote their use to save the cost of printing one-dollar bills, such as the Presidential $1 Coin Program, most Americans currently use the bill. For this reason, since December 11, 2011, the Mint has not produced dollar coins for general circulation, and all dollar coins produced after that date have been specifically for collectors. These collector coins can be ordered directly from the Mint, while pre-2012 circulation dollar can be obtained from most U.S. banks.