On 05 Jan 1939, Amelia Earhart was declared dead in absentia. During an attempt to make a circumnavigational flight of the globe in 1937 in a Purdue-funded Lockheed Model 10-E Electra, Earhart and navigator Fred Noonan disappeared over the central Pacific Ocean near Howland Island.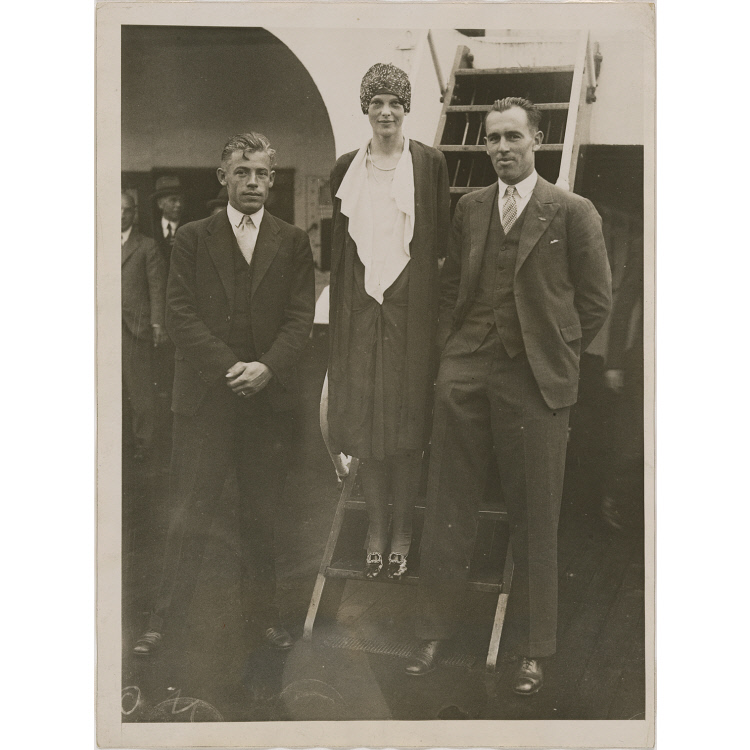 Amelia Mary Earhart was born on 24 Jul 1897 in Atchisonm Kansas. She began flying in her twenties and in 1928 becausem the first female passenger to cross the Atlantic by airplane (with Wilmer Stultz). This gave her immense celebrity status.
Photo right: from the National Portrait Gallery, this photo's Exhibition Label: Two months after Amy Guest's invitation, Earhart—together with Wilmer "Bill" Stultz, seen at left, and Louis "Slim" Gordon, at right—left Boston in Guest's plane, Friendship. Their immediate destination was Newfoundland, the jumping-off point for their transatlantic voyage. On June 17, 1928, after a series of unsuccessful take-offs, they departed from Trepassy Harbor and immediately encountered miserable weather. Although they feared that they had gotten off course and might have to ditch the plane in the ocean, they reached Burry Port, Wales, after twenty hours of flying. They were almost completely out of fuel. Stultz served as the pilot and Gordon as the chief mechanic. Guest paid both men handsomely for their services. Earhart, in contrast, received no money. Furthermore, she never piloted the plane during the flight, which she readily acknowledged. Privately, though, it bothered her. As she later said, "I was just baggage, like a sack of potatoes."
Sadly, one year later Wilmer Stultz would perish in an air crash at Roosevelt Field close to Mineola, New York.
In 1932, piloting a Lockheed Vega 5B, Earhart made a nonstop solo transatlantic flight, becoming the first woman to achieve such a feat.
She received the United States Distinguished Flying Cross on 29 Jul 1932 for this accomplishment.
Photo left is the red Lockheed Vega 5b flown by Amelia Earhart in breaking two world records. It is on display at the National Air and Space Museum in Washington, DC.
According to Wikipedia:
In 1935, Earhart joined Purdue University as a visiting faculty member to counsel women on careers and as a technical advisor to its Department of Aeronautics. Early in 1936, Earhart started planning a round-the-world flight. Although others had flown around the world, her flight would be the longest at 29,000 miles (47,000 km) because it followed a roughly equatorial route. With financing from Purdue, in July 1936, a Lockheed Electra 10E was built at Lockheed Aircraft Company to her specifications, which included extensive modifications to the fuselage to incorporate many additional fuel tanks. Earhart dubbed the twin engine monoplane her "flying laboratory". The plane was built at Lockheed's Burbank, California, plant, and after delivery it was hangared at Mantz's United Air Services, which was just across the airfield from the Lockheed plant.
Although the Electra was publicized as a "flying laboratory", little useful science was planned and the flight was arranged around Earhart's intention to circumnavigate the globe along with gathering raw material and public attention for her next book. Earhart chose Captain Harry Manning as her navigator; he had been the captain of the President Roosevelt, the ship that had brought Earhart back from Europe in 1928. Manning was not only a navigator, but he was also a pilot and a skilled radio operator who knew Morse code.
Right photo: Earhart and Noonan by the Lockheed L10 Electra at Darwin, Australia on June 28, 1937
The original plan was a two-person crew. Earhart would fly and Manning would navigate. During a flight across the country that included Earhart, Manning, and Putnam, Earhart flew using landmarks. She and Putnan knew where they were. Manning did a navigation fix, but that fix alarmed Putnam because Manning's position put them in the wrong state. They were flying close to the state line, so the navigation error was minor, but Putnam was still concerned. Sometime later, Putnam and Mantz arranged a night flight to test Manning's navigational skill. Under poor navigational conditions, Manning's position was off by 20 miles. Long & Long (1999, p. 65) consider Manning's performance reasonable because it was within an acceptable error of 30 miles, but Mantz and Putnam wanted a better navigator.
Through contacts in the Los Angeles aviation community, Fred Noonan was subsequently chosen as a second navigator because there were significant additional factors that had to be dealt with while using celestial navigation for aircraft. Noonan was experienced in both marine (he was a licensed ship's captain) and flight navigation. Noonan had recently left Pan Am, where he established most of the company's China Clipper seaplane routes across the Pacific. Noonan had also been responsible for training Pan American's navigators for the route between San Francisco and Manila. The original plans were for Noonan to navigate from Hawaii to Howland Island, a particularly difficult portion of the flight; then Manning would continue with Earhart to Australia and she would proceed on her own for the remainder of the project.