This blog contains details of the fire, archived articles found in newspapers, photos of the old capitol as it was before the fire and the Fire Report.
According to WV Legislature (info source here – https://www.wvlegislature.gov/Educational/Capitol_History/pg4-5.cfm):
In the afternoon of January 3,1921, plumes of smoke were seen rising from the top of the capitol and soon thousands of spectators, including Governor Cornwell who emerged from a side door, witnessed the complete destruction of the picturesque vine-clad building with a clock tower. Many important records were saved for posterity because the State Law Library, the State Historical Library, the Archives and the State Museum were all housed in the Capitol Annex. Spectators viewing the burning were also treated to a rare display of fireworks, as thousands of rounds of ammunition, confiscated as a result of recent unrest in the coalfields, exploded and fueled the raging flames. Almost immediately plans were being formulated to rebuild a new capitol, the likes of which few people would imagine.
A temporary office building was speedily erected in forty-two working days after January 14, 1921, at a cost of $225,000, of wood and wallboard construction at the Daniel Boone Hotel site. That same year a State Capitol Commission was created during an extraordinary session of the Legislature when seven members were selected to choose an architect and find a 'suitable location for a complex of buildings of impressive structure which would serve the needs of state government in a practical sense for a long time to come'. The "Pasteboard Capitol" and other Charleston buildings would serve as temporary offices and houses for the state courts and Legislature for several years to come as the steps were carefully and decisively taken for the construction of a permanent and enduring monument to West Virginia's statehood.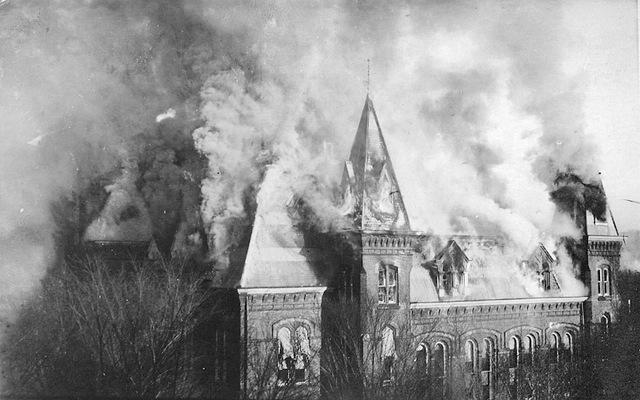 A great photo and details blog can be found here: http://www.mywvhome.com/twenties/fire.html