And Flash Gordon was there in silver underwear…
Science Fiction oooh oooh oooh Double Feature oooh oooh oooh…
So our next installment of Rocky Horror Picture Show movie mentions is Flash Gordon. I will cover the first chapter of this serial, titled: The Planet of Peril (1936).
Flash Gordon is a 1936 science fiction film serial. Shown in 13 installments, it was the first screen adventure for the comic-strip character Flash Gordon that was invented by Alex Raymond. It tells the story of Flash Gordon's first visit to the planet Mongo and his encounter with the evil Emperor Ming the Merciless. Buster Crabbe, Jean Rogers, Charles Middleton, Priscilla Lawson and Frank Shannon played the central roles.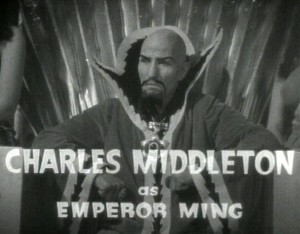 A trivia page that is utterly amazing breaks down this entire episode: HERE.
"We are doomed" are the first lines uttered. "Soon the Earth will be crushed to atoms!" Professor Gordon is devastated but then he is handed a telegram his son, Flash, is flying there to be with him "for the end".
The music reminds me of the old Our Gang episodes. Flash's plane is about to crash when the pilot (?) walks back to tell the passengers that they have parachutes under each seat and maybe they should take this opportunity to use them. Whaaaattt?? And, just like that, Flash grabs the beautiful woman and out the door they go. He has no chute, of course, so he just hangs on to her. They land all soft and bouncy in a tree where he tells her, "Nice trip, we'll have to try it again sometime."
In an amazing twist of coincidences, they find a rocket ship being protected by Dr Zarkov who tells them that the "planet rushing up on us" is radioactive and if they can fly the ship to it, he can save the world!
Will you help me? It's the ONLY chance to save the earth.
Of course, a man who jumps out of a plane with no chute is up for the challenge.
The pretty lady comes along for the ride.
"Hold on, we're taking off." And, while standing there in a suit and she in a skirt, they stap hang into space!
Zarkov's rocket ship is a homemade rocket, invented by Dr. Hans Zarkov. Zarkov was criticized by his colleagues for thinking that he could build a rocket that would fly to other planets, but it turns out that he was right the whole time. The ship makes it to the planet Mongo on its first try.
What kind of fresh hell is this? The planet is inhabited by giant lizards??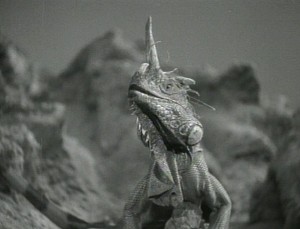 The ship is surrounded by lizards! Don't go out Flash! But, he does. The lizards ran off. Wait, there is a city – we must go. "What about the rocket ship?" "I have it securely locked." Wait… he just locked the door like no one is gonna roll up and try to open the door or break in? It's not a Yugo for Pete's sake! It's a rocket ship!! I expected to hear a "beep beep" like with a car clicker. HA
The lizards are back! Back to the rocket! Damn it the door is locked….
They narrowly escape, multiple times… Looks like the lizards are about to throw down! Luckily for our team, they are fighting amongst themselves. Above them another rocket ship uses a ray to kill them "no doubt about it"!
It is an alien wearing a bucket on his head! "We must go to the emperor, it's our only chance."
Collision of our planets could only mean destruction of both! Ming controls this planet and he will destroy earth in his own way. Ming holds Dr Zarkov in a lab!
Your eyes, your hair, your skin…. you are beautiful. Jealous Flash takes a vase and a floppy sword and defends her honor! From the sidelines Princess Aura tells Ming "If he survives, he's mine!" Aw, you naughty vixen!
Stop! Throw him into the arena.
****GONG****
Out comes men who have long fangs and walk like apes but they are no match for Flash…or are they?
He fights well but he will not escape the pit! NO FATHER! Into the arena goes the princess to intercede. "He deserves the right to live!"
When Ming tells his soldiers to get Aura out of the arena, his lips move but his voice is out of synch. Also, when Aura shoots the guard at the control panel, you hear him scream, but you don't see his lips move.
And that is where we end, on a cliffhanger. Until next time, kiddos.
WAIT A MINUTE! Where was his silver underwear??
Seriously, I will go back and watch them on one day when I don't have a million things to do! These are great! I am so glad I am going down the RHPS path of Science Fiction…. Double Feature…..
Trivia:
This serial's budget of $360,000 was three times more than was typically allotted for a chapter play at the time. Despite its large budget, this serial utilized many sets from other Universal films, such as the laboratory and crypt set from Bride of Frankenstein (1935), the castle interiors from Dracula's Daughter (1936), the idol from The Mummy (1932) and the opera house interiors from The Phantom of the Opera (1925). In addition, the outer walls of Ming's castle were actually the cathedral walls from The Hunchback of Notre Dame (1923).
The serial was shot in six weeks with the cast and crew working many fourteen hour days.
The rocket was originally constructed for the 1930 sci-fi comedy Just Imagine (1930). That film was also the source of a brief scene of dancing girls swarming over an idol with moving arms, which Ming views over a TV screen.
The opening music for the episodes as well as some of the music for the action scenes are excerpts from the classical work "Symphonic Poem, Les Preludes", by Franz Liszt. In Chapter One Richard Wagner's "Good Friday Prelude" to "Parsifal" is used.
This was originally the longest film to be preserved at the National Film Registry, until Empire (1964) was preserved eight years later.
In 1934 Universal purchased the film rights to the most popular of King Features newspaper comic strips. Besides "Flash Gordon," "Secret Agent X-9," "Ace Drummond," "Tailspin Tommy,"and "Jungle Jim" were also included in the package.
Starring: