All the spoilers… All the time…
I go into this movie with very low expectations. I love Stephen King, movies tend to "get it very wrong". I love Tim Curry. I…am slightly holding my judgement. But, only slightly.
I was Georgie when I was a kid. Silently terrified. There was one time my parents walked next door to my Nana's house for an hour and when they returned I was hidden, huddled behind a rocking chair. Self-terrored into panic.
I'm Pennywise, the DANCING clown… those teeth. Wait! This is not how it goes!! One thing that has definitely changed since the original – hollywood gives zero shits on killing or injuring kids.
Is that the kid from Stranger Things?? It is…
Stephen King knows how to write a great bully!
The fucking meat door though… Holy crap that was good creepy!
And then the flute player!
"Easter explosion kills 88 children, 102 total."
So, like most ghost hunter would tell you, there is an electrical current that accompanies the ghosts. That must be why the lights flicker. I tell you what, the library scene was great too!
The crazy amounts of violence compared to the 1990 made for TV version of the story!
Wait… did that lady on the TV say the sewer is a fun place to play? Damn Beverly's dad… ugh. She has no other choice than to be brave. I had a hard time with her dad in the book, on TV and even more so in this movie.
What a great haunted house. Seriously, could it be more perfect??
Then the scene where the blood gushes from the sink onto Beverly and her father doesn't see it… The thought of hair from the drain coming at you! Stop it! Stop it right there sir!
I did not put much thought into watching this movie by myself on a night when I am in the house by myself… WHAT WAS I THINKING?!
Devil Georgie is horrifying! And the scurrying Pennywise!
The Cure "Six Different Ways" is what is playing while they clean the bathroom.
And then the Stranger Things kid flipping off the bully…
It is ironic that the comic is afraid of clowns… beep beep Ritchie.
OMFG the slide show turned crazy!
I don't know if my heart can take this shit….
And yet I go on.
They go to the haunted house and each is separated from the other!
Holy shit the broken arm scene!!
BEST BEST BEST BEST line of the movie: "Who invited Molly Rinwald into the group?"
And then the group breaks up, Pennywise has won. And the bully has a gun. Thanks Trump! Shew! Dad took it away… then shot at his feet! But wait, let's give him a knife!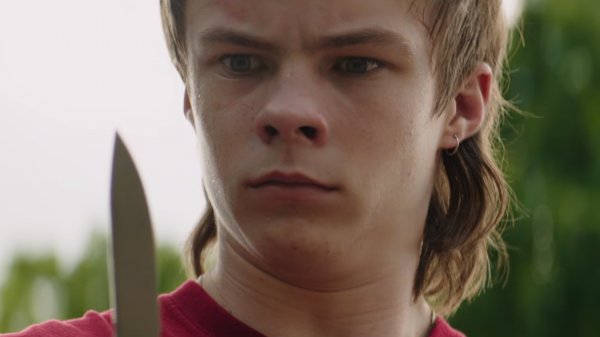 Wait… same lady telling them the sewer is great is talking Henry into killing his dad! Don't do it Henry!
And then we have Beverly's dad. The worst scenes for me in any adaptation of this story. I am totally fine with him bleeding out.
"It" got Beverly.
I keep singing "Henry's got a gun…" in the fashion of Aerosmith. A lot of good that gun or that knife either one did Henry!
Wait a minute! Beverly is in the deadlights???
Love's true kiss….
And then the Georgie scene… again, things have changed tremendously since the first time around.
In the original, their strength was their weaknesses.
Welcome to the losers club asshole.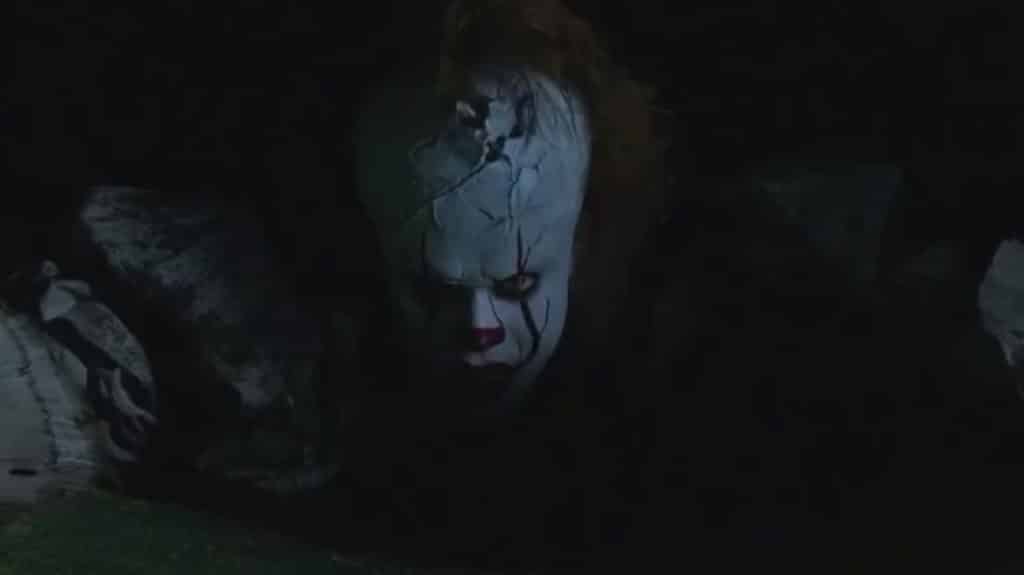 No sewer orgy like in the book. Thankfully. But there is a slice your hand with a dirty coke bottle and play ring around the rosies moment.
Color me impressed. Solid terror filled movie. They did it justice. I am still not 100% with Pennywise because my brain only wants Tim Curry's voice. But still solid job all the same.
Extra Stuff:
Trailer and Extra Video:
My Ranking Scores
0-19 Levels of: Ugh
20-39 Levels of: Meh (aka I cannot reach the remote)
40-59 Levels of: I don't hate it?
60-85 Levels of: That was solid.
86-100 Levels of: I Loved It!
It received a Rotten Tomatoes rating of 86% Fresh.  It received a Rotten Tomato audience rating of 84% liking it.  Average Rating: 3.5/5 with a number of User Ratings: 66,399.
Release date: 5 September 2017 (USA)
Runtime: 135 minutes / Budget: $135M
iMDb Trivia:
Some lines of dialogue were improvised by the actors. Much of the Richie / Eddie banter was improv.
Jack Dylan Grazer (Eddie) was the first one out of all the kids to work with Bill Skarsgård (Pennywise). During their scene, Grazer would cry and gag while Skarsgård was right in his face yelling and drooling. Skarsgård was genuinely concerned for Grazer and after the scene ended, asked him if he was okay. Grazer looked right at him and said, "Love what you're doing with the character!" Skarsgård was left confused and impressed at Grazer's attitude, calling the child actors "little professionals."
Pennywise has only four minutes of dialogue in the entire film.
The outside wall of the butcher shop has a large mural on the side of it commemorating the shootout and murder of the Bradley Gang in 1929. This is taken directly from the book and is mentioned by Mike in his recollection of the past violence that has happened in Derry. In the book, the townspeople of Derry ambush a gang of bank robbers coming to purchase ammo in their town and massacre them in a blaze of crossfire.
Pennywise's costume in the film is much more faithful to the description in the novel, in comparison to the Tim Curry costume in the 1990 TV miniseries, including his orange hair, and the orange pom-poms going down his silver suit. The miniseries only included the orange pom-poms.
The number 27 is often associated with this story. This film was released 27 years after the original 1990 television mini-series. In the book, it is mentioned that "It" returns to Derry approximately every 27 years. Jonathan Brandis, who played young Bill in the original film, died at 27 years old. This movie was released one month after Bill Skarsgård's (Pennywise) 27th birthday. Jaeden Martell (Bill), Jeremy Ray Taylor (Ben) and Nicholas Hamilton (Henry) are all 27 years younger than the actors who portrayed the same characters in the miniseries (Jonathan Brandis (Bill), Brandon Crane (Ben), Jarred Blancard (Henry)). The official U.S. release date is 9/8/2017 and 9+8+2+0+1+7 = 27. The second film will be released on 9/6/2019, and 9+6+2+0+1+9=27.
When Ben is flipping through the "Old History of Derry" book in the library, he briefly pauses on a picture of the 1908 easter festivities (pre-explosion). In that picture, you can see a caravan cart that says "Pennywise the Dancing Clown" on it, with the image of a clown face (but not the evil Pennywise). We later see this cart when Beverly wakes up in the sewer lair. This 1908 cart could be the inspiration of It's form as Pennywise.
Starring: