All the spoilers all the time. You have been warned!
My Thoughts While Watching
Dude, that little doll terrorized the shit out of kid-me.
While researching the movie for this blog I realize the doll was voiced by Walker Edmiston, the original voice of the Keebler Elf from the commercials. His catalog of performances both as an actor and as a voice actor – just, wow. AND he voiced some parts in Dirty Duck… If you haven't seen it, it is horrible and I laughed my ass off. He voiced Enik on Land of the Lost. Seriously, I could get lost in my memories looking at his catalog! Saturday Supercade!!!!!!
It does not take away the fact that I had nightmares for an entire summer and even though the heat was sweltering and we had no A/C, I slept with the blankets pulled up, over my head…
All three of the segments in Trilogy of Terror are based on individual stories by horror writer Richard Matheson. The segments "Julie" and "Millicent and Therese" were adapted by William F. Nolan, while Matheson adapted "Amelia" into a teleplay himself. On January 4, 1975, it was reported that Karen Black had signed on to appear in the film, portraying the three central characters.
This first aired as the "movie of the week" in March 1975. Karen Black stars in all three chapters. Although at first Black turned down the role, her then-husband Robert Burton was cast in the first chapter and she changed her mind.
Punky Brewster's dad????
Interviews & Extra Video
IMDB Synopsis: Three bizarre horror stories all of which star Karen Black in four different roles playing tormented women.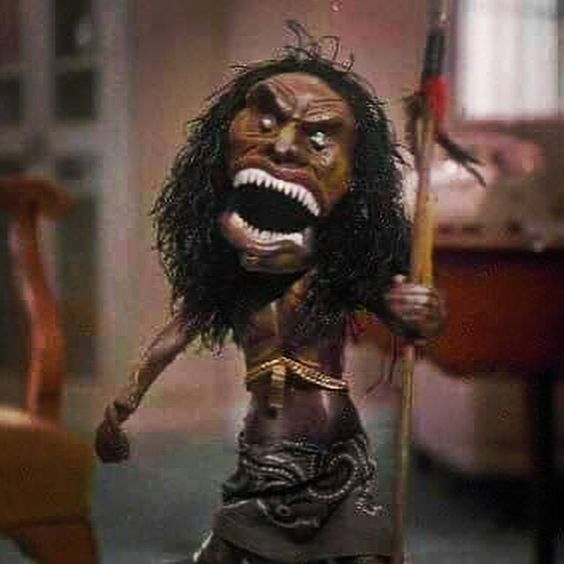 Starring
Director: Dan Curtis
My System Of Scoring
0-19 Levels of: Ugh
20-39 Levels of: Meh (can't reach the remote)
40-59 Levels of: I don't hate it?
60-85 Levels of: That was solid.
86-100 Levels of: I Loved It!
I rank this movie: 80 strictly nostalgia
Additional Movie Info
Rotten Tomatoes rating is 91% Fresh. It received a Rotten Tomato audience rating of 57% liking it. Average Rating: 3.58/5 with a number of User Ratings: 5,175. Click HERE to read more.
Specs: Release date: 4 March 1975 (USA) / Runtime: 72 min / Budget: Who can put a price tag on this kind of AMAZING?!