Tuesday night was our monthly meeting of the KYOWVA Genealogical and Historic Society.  We took our meeting on the road!  Ben Woodard was the guest speaker once again for this month's meeting of the KYOWVA Genealogical Society.  We met at the location of Ben's Eagle Scout Project in Ritter Park along Memorial Boulevard, just past the Veteran's Memorial Arch.  My first encounter with Ben was at my first meeting of the Society.  I blogged about it HERE.  The link to Ben's blog regarding his project and additional information he has gathered on the individual soldiers can be found by clicking this link: https://cabellwwi.wordpress.com/.
If you are a history buff and live in the Huntington, West Virginia area, The Clio might be an app/website you want to check out.  To learn about the World War 1 Soldiers along Memorial Blvd, who Ben speaks about so eloquently, just click HERE!  You can walk while listening to the audio tour.  Once you finish with that tour, there are several other tours in the Huntington area.
Ben spent approximately 400 hours on his Eagle Scout project which honors Huntington-area soldiers who gave their lives in/for World War I. These soldiers originally were honored by memorial trees along Memorial Boulevard in Huntington's Ritter Park.  From Ben's website (link noted above): "The trees were originally marked by metal crosses (donated by the International Nickel Company), which were placed at each tree by the Boy Scouts and the American Legion on Armistice Day 1927, shortly before the first cars drove across Memorial Boulevard. These were melted down (with permission) for World War II manufacturing. The trees were again marked, this time simply by yellow ribbons, during the Persian Gulf War by Owens-Illinois glass plant employees. For Veterans Day 2016, the trees were marked with ribbons and signs by the Buford Chapter, NSDAR, directed by their Chapter Regent, Pat Daugherty. Now marking the trees, unveiled on Veterans Day 2017, are 15 permanent signs with newly-researched information on the soldiers. This was part of Benjamin Woodard's (Troop 62, Huntington, WV) Eagle Scout Project, along with this website, Clio pages and a book of all of his research."
Ben worked with the Greater Huntington Park and Recreation District to mark these trees, which he did by leading the design and placement of 17 signs along the boulevard.  He was selected Buckskin Council Eagle Scout of the Year and was named a West Virginia History Hero, among other honors (photo from the WV History Hero award can be found further down the blog).
Pictures of each of the metal plaques as well as Ben making his presentation:
Click any of the links below to see the articles written in local newspapers about Ben Woodard's Eagle Scout project:
May 26, 2018 Gazette Mail article
Apr 8, 2018 Herald Dispatch article
Nov 12, 2017 Herald Dispatch article
The WV state archives mention of Ben on their website:  http://www.wvculture.org/history/workshops/woodard05242018promo.html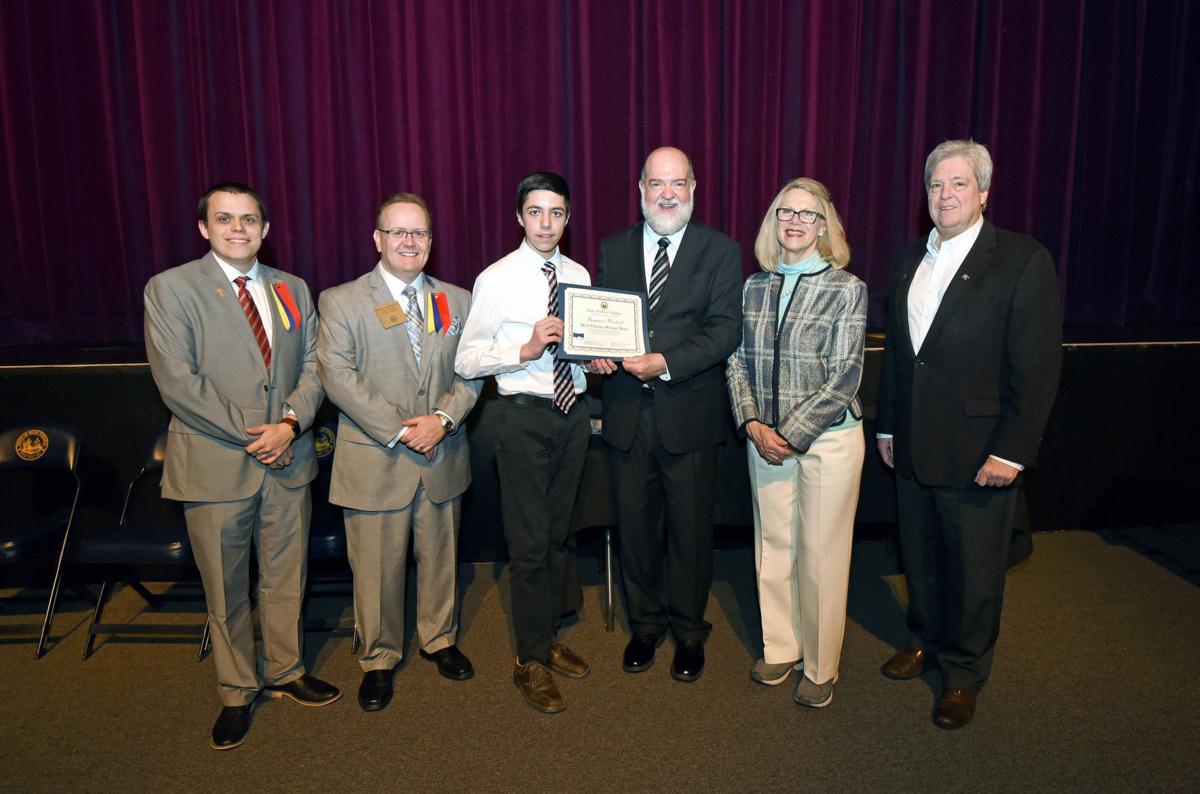 Above, Ben is honored as WV History Hero by the WV Division of Culture and History.  The original article can be found by clicking HERE.
Ben has submissions to the World War 1 Centennial Commision, which you can find by clicking HERE.
It was a tad bit soggy, but we didn't let that stop us from having some fun!
Won't stop, don't stop – you can't rain on our genealogy parade!!  🙂  We had a nice turn out even if the rain did not hold off.
The Veterans Memorial Arch is a 1/4 scale replica of Arch-de-Triumph in Paris, France. Reaching 42 feet high, 34 feet wide and nine feet thick, this monument is dedicated to those who lost their lives in World War I.  With the sun setting, casting a nice warm glow on the flag, I could not help but catch a few shots up close.  (Renau was kind enough to picture me taking pictures lol).
Is someone from your family noted as a WW1 hero along the boulevard?  If so, we would love to hear any stories you might be able to share at our next meeting.