Margaret, the poet.
Margaret Agnew Blennerhassett (1771 – June 16, 1842) was an English-American poet and aristocrat.
Margaret Agnew was born in 1771, in Bishop Auckland, England. Her father, Robert Agnew, was the lieutenant governor of the Isle of Man. Margaret defied social and religious conventions by marrying her maternal uncle, Harman Blennerhassett, a wealthy Irish aristocrat. They shared a 7,000-acre estate in County Kerry until 1795, when their union and Harman's revolutionary ideals prompted them to sell the estate and immigrate to America.
Some accounts say that Harman Blennerhassett met Margaret Agnew in England at the home of Admiral Hon. Michael de Courcyand his wife, the former Anne Blennerhassett and Harman's sister. Other accounts state that Margaret had gone to France to study and had gotten caught up in the violence of the French Revolution. Concerned for her safety, her family had sent her Uncle Harman Blennerhassett to Paris to find her and bring her safely back to England.  Her Uncle Harman rescued Margaret from the French Revolution, but he also fell in love with her and she with him. The two shared a common love of art, literature, and music and they were reasonably close in age, Harman Blennerhassett being born on October 8, 1764, and Margaret either in 1771, 1772, 1774, or 1777. Since they were closely related, both the church, state, and their families considered the Blennerhassett marriage incestuous, so after they were married they were forced to leave England.
The couple left London and sailed to New York City in America. Once there they traveled south to Pittsburgh, PA and then chartered a boat down the Ohio River.[5] The couple settled briefly in Marietta, Ohio. In 1797, they purchased 174 acres of land on an island in the upper Ohio River, in Wood County, Virginia (now West Virginia). The island is located two miles below present-day Parkersburg, West Virginia, a town which was named Newport until 1810. This land originally belonged to George Washington. The 7,000-square foot Blennerhassett Mansion was constructed between 1798 and 1800. In the meantime, the couple lived in a blockhouse near their property.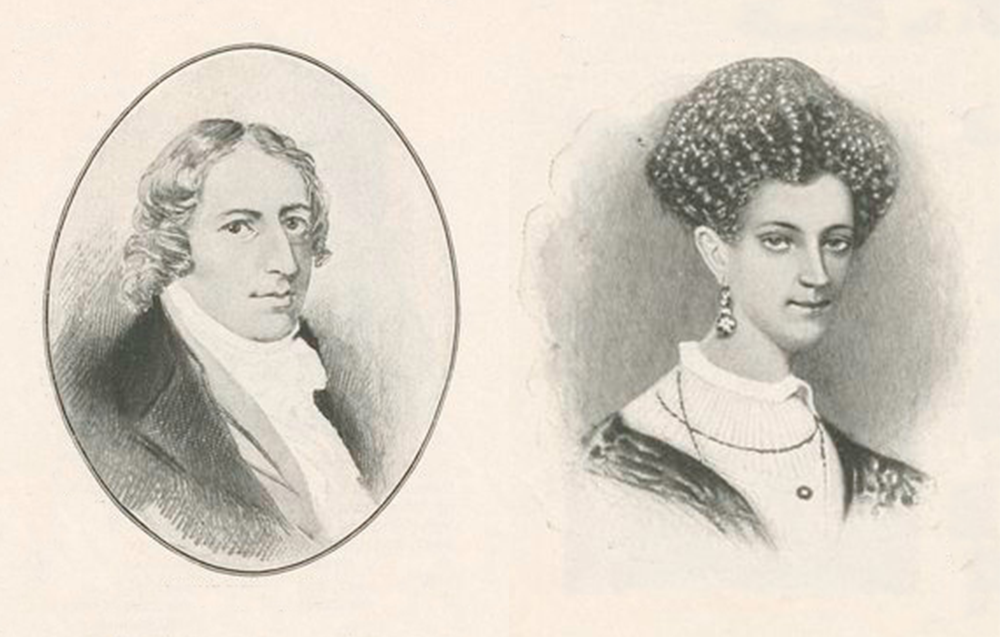 Then in the spring of 1805, the Blennerhassetts entertained a famous and fateful visitor. That spring, Aaron Burr, ex vice- president of the United States, colonel in the American Army, and frustrated politician decided to come to the West. Indicted in New Jersey for murder for shooting Alexander Hamilton in a duel, Aaron Burr looked for new worlds to conquer in the West.  Many historians agree that Aaron Burr created a plan, which came to be called the Burr Conspiracy. He wanted to separate the West from the East and establish a republic with himself as president. As an extension of his presidency, he planned to establish an empire in Mexico in case of war between the United States and Spain and he also wanted to purchase and colonize the territory that is now Louisiana.
Harman Blennerhassett and Aaron Burr were both arrested and imprisoned in the Virginia State Penitentiary until they were granted freedom. The trial in Richmond had exhausted the Blennerhassett's accounts. The following years were met with financial hardships and moving through different states and countries. The Blennerhassetts first turned to growing cotton in Mississippi. During the War of 1812 embargo, they relocated to Montreal, Quebec, Canada. After Harman tried and failed at setting up a law firm, he returned to Europe while Margaret and the children stayed in Montreal.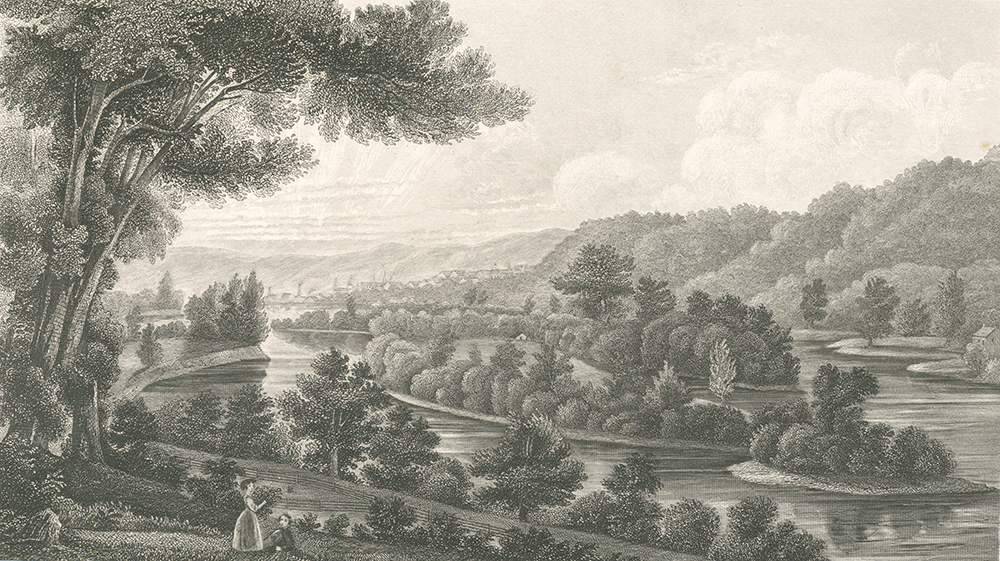 In 1825, Margaret and her children joined Harman in Europe. Harman died in 1831. Margaret remained in Europe until 1842, when she and son Harman Jr., returned to the United States. She petitioned Congress for restitution for the Blennerhassett Mansion's destruction. Although a Senate committee voted in favor of her appeal, she died June 16, 1842, in a poor house in New York City. The Sisters of Charity buried her in a New York cemetery.
Their home on the island remained empty for many years before finally burning to the ground. Between 1984 and 1991, the State of West Virginia reconstructed the Blennerhassett Mansion on its original foundations. The mansion and island comprise Blennerhassett Island Historical State Park. In 1996, the bodies of Margaret and Harman Jr. were reburied on the island in an historical Episcopal ceremony.
The Desert Isle
by Margaret Blennerhassett
I.
Like mournful echo from the silent tomb
That pines away upon the midnight air,
Whilst the pale moon breaks out with fitful gloom,
Fond memory turns, with sad but welcome care
To scenes of desolation and despair,
Once bright with all that beauty could bestow,
That peace could shed, or youthful fancy know.
II.
To the fair Isle reverts the pleasing dream,
Again thou risest in thy green attire,
Fresh as at first thy blooming graces seem,
Thy groves, thy fields their wonted sweets respite,
Again thou'rt all my heart could c'er desire
Oh' why dear Isle art thou not still my own?
Thy charms could then for all my griefs atone.
III.
The stranger that descends Ohio's stream,
Charm'd with the beauteous prospects that arise,
Marks the soft Isles that 'neath the glist'ning beam
Dance in the wave and mingle with the skies,
Sees also One that now in ruin lies,
Which erst, like fairy queen tow'red o'er the rest,
In every native charm by culture dress'd
IV.
There rose the seat where once, in pride of life
My eye could mark the queen of rivers flow,
In summer's calmness or in winter's strife,
Swol'n with the rains or baffling with the snow,
Never again my heart such joy shall know:
Havoc and Ruin and rampant War have past
Over that Isle with their destroying blast.
V.
The black'ning fire has swept throughout her halls
The winds fly, whistling thro' them, and the wave
No more in spring-flood o'er the sand-beach crawls.
But furious drowns in one o'erwhelming grave
The hallow'd haunts it water'd as a slave:
Drive on destructive flood and ne'er again
On that devoted Isle let man remain.
VI.
Too many blissful moments there I've known,
Too many hopes have there met their decay,
Too many feelings now forever gone
To wish that thou would'st e'er again display
The joyful colouring of thy prime array
Buried with thee let them remain a blot,
With thee their sweets, their bitterness forgot.
VII.
And oh! That I could wholly wipe away
The memory of the ills that work'd thy fall
The memory of that all-eventful day
When I return'd and found my own fair hall
Held by the infuriate populace in thrall,
My own fireside blockaded by a band
That once found food and shelter at my hand!
VIII.
My children (Ah a mother's pangs forbear,
Nor strike again that arrow thro' my soul)
Clasping the ruffians in suppliant prayer
To free their mother from unjust controul,
While with false crimes and imputations foul,
The wretches – vilest refuse of the earth
Mock-jurisdiction held around my hearth!
IX.
Sweet Isle! Methinks I see thy bosom torn,
Again behold the ruthless rabble throng
That wrought destruction taste must ever mourn
Alas I see thee now – shall see thee long
Yet ne'er shall bitter feeling urge the wrong
That to a mob would give the censure due
To those who arm'd the plunder-greedy crew,
X.
Tyrants of Liberty (name so ador'd
By crowds to lawless demagogues a prey,
Who, cheated by the ever-echoing word,
Feel not their liberties are filch'd away,
Themselves the tools of base Ambition's sway,)
'Twas yours to loose "the dogs of war," and cry
"On – On the Traitors! Strike for Liberty."
XI.
Thy shores are warm'd with bounteous suns in vain,
Columbia! Of spite and envy spring,
To blast the beauty of mild nature's reign:
The European stranger who would fling
O'er tangled woods refinements' polishing,
May find (expended every plan of taste)
His works by ruffians render'd doubly waste.
XII.
Self-dubb'd philosopher – the mob's delight!
Thy looming Science like thy mammoth's bones
From quiet earth shall ne'er be dragg'd to light.
Then pray (if thou canst pray) in humble tones,
That trying Death who no distinction owns
From Freedom's shore may sweep thy coward name,
And save Columbia such blot of shame!
XIII.
For thee no patriot lyre shall e'er be strung,
Foul stain of Liberty the rabble's choice!
Not e'en thy bombast from the chair that rung
Shall live in future generations' voice,
Thy baleful slang no more make fools rejoice
For who would sound the blessings of thy reign,
Confed'rate vile of Atheists and Tom Paine!
XIV.
Great shad of laurel'd Washington arise!
Methinks I see thy halo'd frowning brow,
indignant see thee turn thy piercing eyes,
Thy voice exclaims – "Where are the heroes now
"Who bled for Freedom, that the rabble low
"Dare thus uncurb'd, on Freedom's sacred shore,
"Their vengeance on defenceless woman pour."
XV.
Thine was the soul that knew no base intent
By cringing arts to win the mob's applause;
Thy purpose on thy country's welfare bent,
In arms thou'rt foremost to maintain her cause,
And having freed establish'd her with laws.
How must thou weep illustrious shade – to see
Thy plans perverted by Democracy!
XVI.
Freedom no more – wild Anarchy restrains,
With jarring interests the levelling throng,
Busy Ambition every effort strains,
The fangs of tyranny to plant among
The very mob by whom his curse is rung.
Spare – spare me from that phantom of equality
That equals men in knavery and brutality!