Harry F. Powers (born Harm Drenth; November 17, 1893 – March 18, 1932) was a Dutch-born American serial killer who was hanged in Moundsville, West Virginia.
Powers lured his victims through "Lonely Hearts" ads, claiming he was looking for love, but ultimately murdering them for their money.
Davis Grubb's 1953 novel The Night of the Hunter and its 1955 film adaptation were based on these crimes.
Jayne Anne Phillips's novel Quiet Dell (2013) examined the Powers case anew.
Harm Drenth was born in 1893 in Beerta, in the Netherlands. He and his family immigrated to the United States in 1910, living at first in Cedar Rapids, Iowa, then moving to West Virginia in 1926.
In 1927, he married Luella Strother, an owner of a farm and grocery store, after responding to her lonely hearts ad. Though now married, Powers took out his own lonely hearts ads. Many women wrote in response to his advertisement. "Postal records later indicated that replies to Powers' advertisement poured in at a rate of 10 to 20 letters per day." Powers constructed a garage and basement at his home in Quiet Dell; the garage was later discovered to be the scene of the murders, of which he was convicted.
After his 1931 arrest, police investigation using fingerprints and photographs revealed that he had been incarcerated for burglary under his birth name in Barron County, Wisconsin in 1921–1922. Although not charged, Powers was suspected of involvement in the 1928 disappearance of Dudley C. Wade, a carpet sweeper salesman with whom he had once worked, and the unsolved murder of a Jane Doe in Morris, Illinois.
Using the alias "Cornelius O. Pierson," Powers began writing letters to Asta Eicher, a widowed mother of three residing in Park Ridge, Illinois. Powers went to visit Eicher and her children—Greta, Harry, and Annabel—on June 23, 1931, and soon left with Eicher for several days. Elizabeth Abernathy cared for the children until she received a letter saying that "Pierson" was going to come pick up the children to join him and their mother.
When he arrived, he sent a child to the bank to withdraw money from Eicher's account. The child returned empty-handed because the signature on the check was forged. Powers and the children then hastily departed. He told neighbors concerned about their disappearance that they were on a trip to Europe.
Some time later, Powers courted Dorothy Pressler Lemke from Northborough, Massachusetts, who was also looking for love through lonely hearts ads. He brought her to Iowa to marry her and persuaded her to withdraw $4,000 from her bank account. Lemke did not notice that instead of sending her trunks to Iowa, where Powers claimed to be living, he sent them to the address of "Cornelius O. Pierson" of Fairmont, West Virginia. Asta Eicher, her children, and Dorothy Lemke had disappeared with no explanation.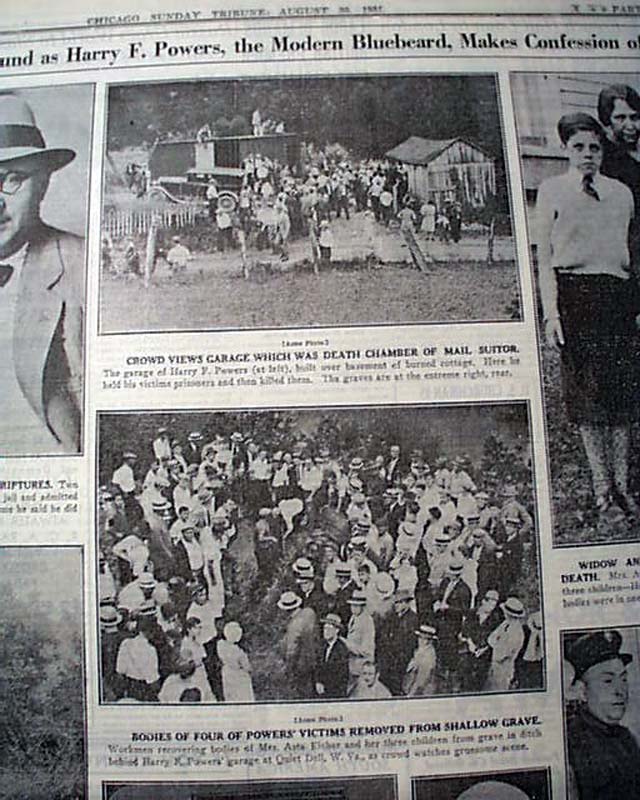 In August 1931, police began investigating the disappearances of Asta Eicher and her children, beginning with "Pierson", who was discovered emptying Eicher's house. They found love letters, which led them to Quiet Dell, where "Pierson" lived under the name Harry Powers with his wife. Powers was arrested and his house in Quiet Dell was searched.
Police found the crime scene in four rooms located under Pierson's garage. Bloody clothing, hair, a burned bankbook and a small bloody footprint of a child were discovered. Citizens of the town began to arrive at the scene to watch the unraveling of the crimes Powers had committed. Police began to dig up a freshly filled-in ditch found on Powers' property, and the bodies of Asta Eicher, her children and Dorothy Lemke were uncovered. Evidence and autopsy results showed that the two girls and their mother were strangled to death while the young boy's head was beaten in with a hammer.
Lemke was uncovered with a belt wrapped around her neck, with which she was strangled. Love letters were found in the trunk of Powers' automobile. He had written back to many women with the intention of stealing their money and killing them, just as with his most recent victims.
On September 20, 1931, a lynch mob attempting to take Powers from the jail was dispersed with fire hoses and tear gas. Powers was then moved to the West Virginia State Penitentiary in Moundsville.
Powers' five-day trial was held at a local opera house because of the large number of spectators. Numerous witnesses testified to the evidence in Powers' home, that he had been with the victims and picked up their luggage, and so on; Powers also testified for himself. On December 12, 1931, he was sentenced to death, and he was hanged on March 18, 1932.
Per WV Div Culture and History:
Harry Powers: Bluebeard of Quiet Dell
Clarksburg Telegram
March 19, 1932
---
POWERS KEPT IRON NERVE
BLUEBEARD CONFESSED TO DOCTOR
Forty-two Persons Witness Execution at Moundsville Penitentiary
By WILBUR M. SWIGER
Moundsville, March 19. – Displaying the same iron nerve he did during his trial in Clarksburg, Harry F. Powers, mass slayer, went to his death on the gallows at the state penitentiary, at Moundsville last night.
The multiple murderer, who wooed and won women by mail by the matrimonial bureau method, walked up the unlucky thirteen steps of the gallows almost unassisted, according to prison guards. His legs and hands were strapped securely as he stood behind the dark curtain that screened him at first from the gaze of the forty-two spectators. The audience stood beyond the stage-like trap in front of him in the immaculately white death room chamber.
Warden A. C. Scroggins and guards pulled the curtain back and there the mail order Romeo stood. He was dressed immaculately. He wore a dark suit with white pin stripes in it. His bright light blue necktie was tied neatly and he had on a white broadcloth shirt. His face was clean shaven and he appeared in excellent physical condition. So neat was his appearance, that he might have been the bridegroom at one of the many weddings he planned in his matrimonial bureau correspondence with scores of women all over the country.
The heavy rimmed tortoise shell glasses were the only thing that were missing that made the Lothario look different than when he sat upon the stage in Moore's opera house at Clarksburg. Then he told a fantastic story of how two mysterious men were responsible for the death of Mrs. Dorothy Pressler Lemke, of Northboro, Mass., the woman he was convicted of murdering.
LEERS AT AUDIENCE.
He appeared pale in the gruesome glare of the lights of the death trap. For a full minute, it seemed, he leered at those in the audience in front of him. His light blue eyes roamed to the officers whose evidence had brought him to his doom, and to the newspaper men, who wrote many columns about his horrifying crimes. Powers had no love for officers, or the press and his last glances at them seemed to say as much.
But the slayer of Mrs. Lemke and Mrs Asta Buick Eicher and three children, the latter of Park Ridge, Ill., showed no signs of nervousness. He seemed resigned to his fate; it appeared that he wanted to show those responsible for gathering the evidence against him that he wasn't afraid even in death. Standing on the death trap with Powers were Warden Scroggins and several guards. The guards lined up back of the condemned man. The warden was at Powers's left. The prison chaplain, E. M. Giesey, was at his right.
VOICE IS FIRM
Solemnly, the warden asked Powers if he had any farewell statement to make. He hesitated a moment and then answered "No" in a voice that did not have a quiver in it.
"We commit Harry Powers's soul to Thee and ask that Thou pardon his sins," chanted the chaplain.
His eyes weak, because he did not have on his glasses, Powers blinked in the glare of the lights and did not seem to heed the words of the chaplain, although several days ago he expressed belief in a Supreme Being and sought solace in religion. While in the Clarksburg jail he claimed to be an atheist.
A guard at the rear slipped the black death cap over Powers's head quickly. Like a plummet he dropped through the trap to his death at the signal of Deputy E. C. Brill, captain of the prison guards.
Attendants stationed at three buttons pushed them and sprung the trap. None knew who released it.
Powers died without a tremor. Physicians with stethoscopes stepped behind the railing separating the trap from where the spectators stood. One placed an instrument over Powers's heart; another held a stop watch.
DIED IN 11 MINUTES.
Silently the first minutes passed. The warden has asked those in the death chamber to refrain from talking. Finally a guard whispered:
"They usually die in from nine to eleven minutes."
Powers went through the trap at exactly 9 o'clock. He was officially pronounced dead eleven minutes later by Dr. R. A. Ashworth, prison physician, and Dr. O. P. Wilson, the latter's assistant.
Dr. H. H. Haynes, of Clarksburg, who witnessed the hanging, helped the prison physicians to make their examinations, and immediately after Powers's death, the Clarksburg doctor announced that he had a complete confession of Powers's crimes.
After the trap had sprung, exacting society's toll for the murder of Mrs. Lemke, Dr. Haynes disclosed he has Powers's written confession, admitting in detail the murder of five persons.
These five – Mrs. Lemke and Mrs. Eicher and her three children – were killed and their bodies were buried in a narrow ditch near Powers's "chamber of horrors" garage on his wife's deserted farm in sylvan Quiet Dell, near Clarksburg.
FINANCED DEFENSE
Dr. Haynes and Sheriff W. B. Grimm, of Clarksburg, told newspaper men that in the confession Powers described in detail how he killed his victims. With one, he spent eight hours before completing his work of destruction.
Dr. Haynes said he had financed part of Powers's defense and that the proceeds were intended to reimburse him.
A short time after Powers's body was removed from the death chamber, an envelope addressed to Warden Scroggins was opened.
Therein was a letter in which the man about to die had protested his innocence. He assailed capital punishment, which he insisted fails to reduce the number of murder cases.
"There are more in West Virginia than in Wisconsin," he explained.
He reiterated that his trial was "unfair," that it was held in an opera house "where people go to be entertained." He recalled he had twice been menaced by a mob, yet had been refused a change of venue.
COMMUNITY INFLAMED
He said the community was inflamed against him and that falsehoods had been published about him.
Sheriff Grimm said Powers had confessed the slayings a short time after his arrest. He denied the confession had been forced from Powers through a "third degree."
Confronted by evidence, the sheriff said, Powers was asked to sign a confession. He was permitted to study a written statement along in another room.
Not knowing Powers was there, Grimm said he walked into the room and Powers called him to his side. Powers said he would not sign the confession "because it involves my wife and her sister."
Asked if he would sign the paper if their names were omitted, he replied:
"Sure, I'll sign it."
And he did, Grimm asserted.
Fears that Powers would suffer a nervous collapse were expressed an hour before the hanging, when he was visited by the sheriff and the warden.
PROTESTS INNOCENCE
Grimm, trustee for Mrs. Lemke's estate, questioned Powers about what had become of the woman's jewelry.
Powers, sobbing bitterly, staggered from his bunk, crossed to a table on which there was a Bible, and cried:
"With my hand on this Book of God, I swear by the teachings of my mother, that I know nothing about it."
He continued to weep, as the two officials, tears streaming down their faces, left him.
Nearly an hour later, however, those who were to escort him to his death, found Powers waiting calmly.
Whether or not this story, which is to be copyrighted, uncovers any new crimes is unknown, but Dr. Haynes and Sheriff W. B. Grimm say that in it the mass slayer tells in detail how he killed the five persons.
Dr. W. A. Marsh, of Greenlawn, near Adamston, who attended the hanging, declared just before the execution took place that he had it "from a reliable source" that Powers in one statement admitted to the murder of Dudley C. Wade, carpet sweeper salesman, who disappeared so mysteriously, May 10, 1928. Dr. Marsh said he was bound by confidence not to reveal his informant.
Wade and Powers worked for the same carpet sweeper company. Wade disappeared and Powers took over management of the agency here. Company officials, checking up, found a number of sweepers missing here. Powers insisted Wade had sold them and had run off with the money.
The company offered a reward for recovery of the missing sweepers, but got no results. Then a search warrant was sworn out and many of the sweepers were found, with the serial number changed, in Powers's garage on Lynn avenue, Broad Oaks.
Powers was arrested, but blamed the sweeper trouble on Wade. "I had recovered the sweepers and was going to turn them in," said Powers. His ingenious plea won his freedom.
Then Powers sued the sweeper company and got most of the reward offered for the stolen property.
Wade has never been found. Officers feel certain he either is dead or is living somewhere under an assumed name.
CONTRADICTS HIMSELF
T. A. Hoganson, Grundy county, Illinois coroner, told this writer he is convinced in his own mind Powers killed an unidentified woman at Morris, Ill. "He told me in an interview that he had never been in the state of Illinois," declared Hoganson. "In that statement he contradicted himself, for he had many times admitted to being in Illinois. The Eicher family lived at Park Ridge, Ill., and Powers during his imprisonment in the Harrison county jail at Clarksburg never denied visiting the Eichers there.
"The automobile Powers drove to Morris, Ill., corresponded with the coupe Powers owned," continued Hoganson. "The rooming house keeper from whom he rented a garage says she is certain from the pictures she has seen of Powers that he was the same man who rented storage room from her. She says there was a stifling odor in the garage. She told her renter about the odor. Later the body of the woman wrapped in burlap was found beside the highway near Morris."
Powers's body was not claimed by his widow, and will be buried in a few days in the prison potter's field, in dismal Toms Run valley.