Husband and I made a trip to Cleveland back in November. On the way home we passed a sign in the Akron area that noted "MAPS Air Museum" and we never pass up aviation history! So, of course we stopped.
Below are a few photos (and the link to my Flickr album with a couple hundred more, including the indoor displays which were AMAZING).
I highly recommend a visit! It was completely worth the stop!!
Per the official website: https://mapsairmuseum.org/
MAPS Air Museum is a "working" Museum. What does that mean? Many of the aircraft that MAPS receives are dilapidated and need a lot of restoration work. Due to that, this means many volunteer hours are not just going toward general maintenance/upkeep on aircraft, but also on continuous work to refurbish these aircraft.
The aircraft under refurbishment at MAPS are at varying stages of repair or maintenance. Anywhere from a completed aircraft that needs basic general maintenance, all the way down to extremely deteriorated aircraft that are dismantled to its base fuselage for work to be done. When one is complete, MAPS finds more aircraft to refurbish before they deteriorate too much. Many are rare to find and/or heavily deteriorated.
As an example, our B-26 Marauder of the WWII era required more than 13,500 volunteer man hours to repair. This aircraft crash landed in early 1942, in British Columbia, Canada and stayed there for a long time before anyone attempted to revive this rare aircraft. This aircraft at MAPS is only 1 of 4 fully refurbished aircraft on display in the world (only 1 of which is flyable) and another 3 at various degrees of repair.
Below you will find a listing of the types of aircraft, mostly military, that are in various stages of refurbishment or maintenance. A few aircraft are in our restricted Restoration building for heavy repairs. While many others are awaiting their turn to be fully restored, you can still see many of these aircraft on display at MAPS.
MAPS Air Museum attains their aircraft through purchases, but also through indefinite loan agreements from many entities, such as: private collections, the M.A.R.C group, McKinley Museum and the United States Army, Navy, Marines and Air Force. Below, you will see the listing of aircraft at the MAPS Air Museum.
There has been a banquet the night before so all of the aircraft had been taken out of the hangar. We braved the cold air to go have a look. I cannot tell you how happy it would make me.
My Dad, James Paul Seletyn, was an aircraft mechanic in the Air Force. The craft he maintained was the F-101 Voodoo. Well, guess what aircraft they had? You guessed it! There was the Voodoo in all of its glory! I could press my hand against it and everything. Dad's plane! What a treat!
Per their website on the F101:
OUR AIRCRAFT'S HISTORY
McDonnell F-101F-91-MC "Voodoo" (S/N 57-0342; MSN #520) ~ This sleek Voodoo was manufactured by McDonnell Aircraft in St. Louis, Missouri in August of 1959 as a F-101B-90-MC and delivered to the US Air Force on August 20th, 1959. First being with the 52nd Consolidated Maintenance Squadron, Air Defense Command, Suffolk Air Force Base, New York.
January 1960 – 444th Fighter-Interceptor Squadron, ADC, Charleston AFB, South Carolina; deployed to Hamilton AFB, California
February 1961 – Converted to F-101F
October 1962 – 4756th Air Defense Group, ADC, Tyndall AFB, Florida
January 1968 – Air Defense Weapons Center, ADC, Tyndall AFB, Florida
May 1971 – 147th Fighter-Interceptor Group, Texas Air National Guard (ANG), NAS, Ellington, Texas
April 1978 – 111th Fighter-Interceptor Squadron, Texas ANG, Ellington NAS, Texas
July 1982 – Military Aircraft Storage and Disposition Center, Davis-Monthan, AFB, Arizona
May 1985 – Dropped from Inventory by transfer to museum status
June 1998 – Transferred to the Florida Military Aviation Museum, St. Petersburg, Florida by the US Air Force Museum
This museum became defunct and with military approval, was recovered and transferred to the MAPS Air Museum in November 2004, where it is maintained by Crew Chief Kent Kleinknecht.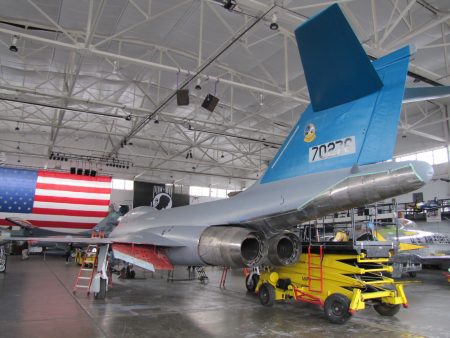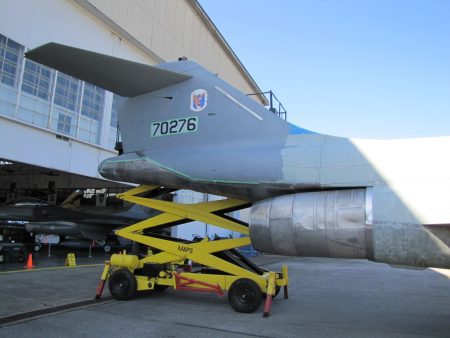 SPECIFICATIONS/PERFORMANCE (F-101B)
Manufacturer: McDonnell Aircraft
First flight: September 29, 1954
Introduction: May 1957
Retired from the US Military: 1982 (US ANG)
Number built: 807
Unit cost: US $1,754,066
Crew: 2
Length: 67 ft 5 in
Wingspan: 39 ft 8 in
Height: 18 ft
Empty Weight: 28,495 lbs
Max takeoff weight: 52,400 lbs
Engines: 2 x Pratt & Whitney J57-P-55 afterburning turbojets, 11,990 lbf thrust each dry, 16,900 lbf with afterburner
Max speed 1,134 mph (Mach 1.72)
Range: 1,520 mi
Service ceiling: 58,400 ft
ARMAMENT, NOTABLE
4 (originally 6) x AIM-4 Falcon rockets, or
2 x AIR-2 Genie nuclear rockets, plus 2 x AIM-4 Falcon rockets
Museum display note: Our F-101F was recently (November 2019) freshly re-painted and marked as a F-101B (S/N 57-0276) to pay homage to the 87th Fighter-Interceptor Squadron (ADC) stationed at Lockborne AFB from 1960-68, which is now Rickenbacher Air National Guard Base, Ohio.
Designed to replace: North American P-51 "Mustang"
Designed from: XF-88 "VooDoo" program
Intended successor aircraft: F-4 "Phantom II"
Per their website, the current aircraft inventory:
aft
Name
Status of Aircraft
Serial or
Bureau #
A-7E
Corsair II
On Display
159268
A-4
Skyhawk
On Display
139947
A-26C
Invader
On Display
43-22602
A-67
Dragon
n/a, in storage
SR-P001 (N906US)
AH-1S
Cobra
On Display
70-16084
B-26
Marauder
On Display
40-1459
BT-13A
Valiant
Restricted, in Restoration Building
41-21271
C-3
n/a
On Display
n/a
C-47
Skytrain (Gooney Bird)
On Display
45-928
EA-6B
Prowler
On Display
163047
FG-1D
Corsair
Restricted, in Restoration building
76671
F9F-8P
Cougar
On Display
144402
F-4S
Phantom
On Display
155764
F-11F
Tiger
On Display
57-0342
F-14B
Tomcat
On Display
162694
F-16A
Fighting Falcon
On Display
80-0513
F-84F
Thunderstreak
On Display
52-6524
F-86A
Sabre
Restricted, in Restoration Building
48-0263
F-86D/L
SabreDog D/L
On Display
53-0658
F-100D
Super Sabre (Hun)
On Display, being renovated
56-3081
F-101F
Voodoo
On Display
57-0342
F-102A
Delta Dagger
On Display, being renovated
56-0986
F-105B
Tunderchief (Thud)
On Display, being renovated
57-5820
GA-22A
Drake
On Display
4040
GZ-22
Spirit of Akron
On Display
4120
H-19D
Chickasaw
Restricted, in Restoration Building
54-1412
Hawk
Arrow II
On Display
L-17B
Navion
On Display
NAV4227
L-29
Delfn
On Display, awaiting renovations
892-828
Martin
Glider
On Display
one of a kind
MiG-15bis
Fagot
On Display, awaiting renovations
526-116
Lim-6bis
Fresco
On Display
1J-04-19
MiG-21F-13
Fishbed
On Display, being renovated
506301
B-75-L
Funk Model B
Being renovated
205
OH-58A
Kiowa
On Display
69-16153
OV-1A
Mohawk
Restricted, in Restoration building
63-13128
P-51
Mustang Mockup
On MAPS Entrance pole
n/a
Pitts S-1
Pitts Special
On Display
149-H
PT-19
Cornell
On Display
43-31365
RB-1
Snowbird
n/a, in storage
S2F-1
Tracker
On Display
136464
SNB-5
Expeditor
On Display
43-33316
Sopwith Tri-Plane
Sopwith Tri-plane
On Display
001
T-28A
Trojan
On Display
51-3565
T-33A
Shooting Star
On Display
53-5250
T-37B (White)
Tweet
On Display, awaiting renovations
54-2732
T-37B (Blue)
Tweet
On Display
60-0188
U-11A (PA-23-150)
Aztec (Apache)
On Display, awaiting renovations
23-894