American car designer Carroll Shelby and driver Ken Miles battle corporate interference, the laws of physics and their own personal demons to build a revolutionary race car for Ford and challenge Ferrari at the 24 Hours of Le Mans in 1966.
ALL OF THE SPOILERS HERE!
There are a handful of times that I will openly say "Oscar Contender" for a movie after watching it. This will be one of them. From their use of actual stunts, not CGI to the wide range of acting capabilities, to audio to script. I think it was beautifully done. I went in thinking, "It's a gearhead movie and we need to see the early showing because I will be dozing a little if we see the 8PM showing of a 2.5 hour racing flick." I could not have been more wrong.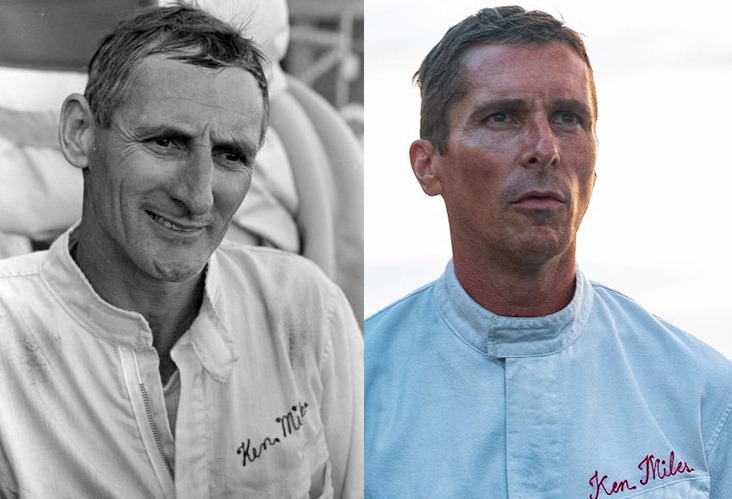 Not to knock the shine off of Matt Damon's star – Christian Bale was simply amazing. In interviews, Matt Damon said the number one reason he wanted to do the movie was to work with Christian Bale. According to Damon, Christian Bale had to lose seventy pounds before filming began. Bale had previously gained a lot of weight for his role in Vice (2018) and had about seven months to lose it all and then some to play the lean race car driver, Ken Miles. Damon inquired of Bale how he managed to lose all the weight, to which Bale replied that he simply didn't eat. Damon said he was impressed by Bale's monk-like discipline.
There is an IMDb scene-to-scene breakdown of the movie below the credits in this blog. Do yourself a favor though, if you are going to see it in the theater, just skip it and watch without knowledge of how it will go. I knew that the driver, Ken Miles, died shortly after the 66 Le Mans. During the race scenes, that kept coming to mind and my heart became very heavy.
In preparation for his role, Christian Bale took race driving lessons at the Bondurant High Performance Driving School. As it happened, the founder of the school had been a friend of Ken Miles. So in addition to the driving, Bale also got to hear stories of the 1960s racing scene. Bale's instructor and the film's stunt coordinator,Robert Nagle later stated that, "he's hands down the best actor I've ever trained."
Before the Ford Motors event to introduce the new Mustang, Shelby pilots a Lockheed Model 10 Electra with other Ford executives. Shelby did not go to school and enlisted in the United States Army Air Corps, serving in World War II as a flight instructor and test pilot. He graduated with the rank of staff sergeant pilot.
Early in the film when Ken Miles (Christian Bale) wants to end the debate with his wife (Caitriona Balfe) over their financial situation, he says that they should quit "going all around the Wrekin". This is a phrase originating in the West Midlands of England to signify that someone should stop waffling and get to the point (the Wrekin is a prominent hill in Shropshire). As Ken Miles was from Sutton Coldfield it is certainly the sort of expression that he could have used.
Matt Damon and Christian Bale agreed that the brawl between their respective characters was the most fun scene to film. Both have experience of extensively choreographed fight scenes that take weeks to learn so it was a positive change that they only had to rehearse the brawl for twenty minutes and weren't required to look lethal while doing it.
The scene where Ford breaks down after the ride with Shelby, he says he wished that his father could have had the experience. He did not mean Henry Ford. Henry Ford was his grandfather, his father was Edsel Ford.
Eric Broadley, one of the early designers of the GT40, does not make an appearance in the movie, but the box for a plastic model of Broadley's Lola T70 race car can be seen on a shelf in Peter Miles' bedroom.
The 24 Hours of Daytona race took place on February 5th-6th, 1966. The Le Mans took place on June 18th-19th, 1966.
In order to recreate the Le Mans circuit as it existed in the 1960s the scenes taking place on the race track had to be shot in five different locations. This proved a challenge in terms of continuity as not only the cars had to be correctly placed for each shot but the weather had to be consistent as well. VFX was critical in fixing a variety of continuity errors some of which were as simple as adjusting clocks to the right time.
During one of the scenes at the Le Mans circuit, Jacky Ickx can be seen standing in the crowd. Despite his successes with Ferrari in Formula One, Ickx is widely known for holding the highest number of wins at the Le Mans 24 hours at the time with 6 victories (1969, 1975, 1976, 1977, 1981 and 1982). His first win was in a Ford GT.
More than fifty years after their racing heyday, The Ford GT cars depicted in the movie are still so famous and popular that several companies make modern replicas that can be purchased by the public, either as kits for turn-key keys. Race Car Replicas ("RCR") in Michigan is one of these companies and RCR built all of the replica FORD GT40s used in this movie as well as other makes seen in this film. The modern replicas have many upgrades for safety, reliability and ease of manufacture, but are outwardly identical in appearance and mechanical configuration. Many of the original Ford GT40s from the LeMans 1966 race still exist, but they are now collector's items worth millions of dollars and are not suitable for the risks of filming.
Perhaps intentionally the film skips the 1965 World Sportscar Championship. Ken Miles and Lloyd Ruby teamed to win the Daytona race that year in a Shelby Ford GT40 and finish second in the 12 Hours of Sebring. But Ferrari still won at Le Mans and no Fords finished. Ferrari also won that year's FIA International Trophy for GT Prototypes. 1966 would indeed prove the pivotal year for Ford v. Ferrari.
Dan Gurney is portrayed in this movie by his youngest son, Alex Gurney.
In one scene, Shelby refers to Henry Ford II as "The Deuce". Ford was called "Hank the Deuce" as far back as the early 1940's.
The watch Carol Shelby wears is a Heuer Carrera Calibre 18 Telemeter. Jack Heuer (founder of Heuer Watches) and Heuer watches have always had a strong involvement in motorsport. The Carrera collection was created in 1963, inspired by the iconic Carrera Pan Americana race.
Ken's death took place on August 17th, 1966.
Starring:
Plot Synopsis Breakdown per IMDb:
Carroll Shelby (Matt Damon) is a professional racer who is forced into early retirement due to a heart condition, goes into car sales. Warm and likable, he's a natural salesman and a people person. He is also an incredible vehicle designer and engineer. Meanwhile, Ken Miles (Christian Bale) is a racer currently working as a mechanic and running his own shop to support his wife Mollie (Caitriona Balfe) and son Peter (Noah Jupe). He tells it like it is and sometimes gets customers angry, but he doesn't sugarcoat anything. At a race, Ken is told his car does not meet regulations and begins angrily yelling at the race official – Carroll spots this and calms him down, but afterwards the two get into an argument and Ken throws a wrench at him. Later, the IRS comes and shuts down Ken's garage, and he's forced to give up most of his racing in order to take care of his family.
Meanwhile, at Ford Motors, Henry Ford II (Tracy Letts) is furious that sales are down and that his father's company is in danger. He begins taking pitches from his underlings – Lee Iacocca (Jon Bernthal) pitches him an idea – the sexiest cars are race cars, like Ferraris. He posits that if Ford can win the Le Mans, the 24-hour race, they will be at the top. In order to do that, they fly to Italy in order to offer the struggling Ferrari a deal – they will buy the company and let Enzo Ferrari (Remo Girone) maintain control of the racing division. Ferrari uses this offer to get Fiat to make a good offer, and they buy Ferrari. Ferrari tells the Ford businessmen to shove it, and calls Henry a fat pig. When they get back, Henry makes them relay in detail what Ferrari said, and he becomes more determined than ever to beat Ferrari. He decides they will start their own racing division.
Lee approaches Carroll, as the only American to ever win at Le Mans, if he would be the head of their racing team, designing and testing the cars. Carroll agrees – and goes to Ken, the best driver he knows, to take part. When Mollie sees Ken heading out with Carroll, she angrily demands to know the truth. He tells her that he's been offered great pay to race, and she's thrilled – she just doesn't want him to ever lie to her. The team begins getting the car into shape for their first big race, but as it approaches, Ford vice president Leo Bebee (Josh Lucas), approaches Carroll and tells them that Ken's rakish, unpredictable quality is not part of the Ford brand and he can't be trusted to do press and represent Ford well, and that he can't be their driver. Carroll fights for Ken, but is eventually forced to tell Ken that he won't be racing – Ken is furious. When Ford loses the race, Carroll is able to convince Henry to allow him to rehire Ken. He goes to Ken's house and apologizes and asks him to come back, and the two end up getting into a physical fight on his front lawn. They finally give up, exhausted, and Mollie brings them some cold sodas.
Ken rejoins the team, who are working day and night trying to perfect the car. Lee warns Carroll that Leo is determined to have Ken removed from the team, and intend on doing so on their next visit. Knowing this, when Henry and Leo arrive, Carroll locks Leo in his office and takes Henry out for a ride in the race car, and Henry experiences just how terrifying and exhilarating racing is. When they stop, he breaks down into sobs. Carroll offers him a deal – let Ken race at Daytona – if they win, he races at Le Mans in France. If they lose, Henry gets full control over Carroll's company. At Daytona, they find tough competition in a second Ford team that Ford had commissioned to see who engineered the best vehicle. Ken is able to win the race, securing their team the spot at Le Mans and ensuring Ken will drive there.
In France, Le Mans approaches. Ferrari and Henry are both in attendance. When the race starts, Ken's door won't shut, slowing him down on the first lap. The car that they had designed was able to accelerate to really high speeds but doing so burned out the brakes, so deep into the race the pit crew changes out the brakes. The Italians at Ferrari are furious, saying this is a violation of the rules, but Carroll points out the rule-book says they are allowed to change parts and it isn't specified which ones. Eventually, Ferrari's car spins out and crashes, leaving Ken in first place, and Mollie and Peter are able to watch on TV as Ken completes his much desired "perfect" leg. Leo, who had been trying to bypass Carroll and mess with their strategy, goes to Henry and suggests that the best image for Ford would be to have all three of their cars cross the finish together. He agrees, and Leo gives Carroll the order, who refuses. Carroll tells Ken the instruction, but tells him it's his race and he will stand behind him no matter what. At first Ken speeds to the victory, but he eventually relents and slows down allowing the other drivers to catch up and cross the finish together. Everyone celebrates Ken's win until a technicality – he started behind another car – puts him into second, not first. Carroll is furious, but Ken accepts it and the two go off together.
Weeks later, while training at the racetrack, Ken crashes and is killed. Carroll goes to his family's home and finds Peter, who he gives the wrench that Ken threw at him. He gets into his car, and despite his condition, speeds off into the distance. The post-script tells us that Carroll's cars won the Le Mans four years, and that Ken was inducted posthumously into the racing hall of fame.