Julie Krone (b: 1963) is a retired American jockey.  She became the first female jockey to win one of the Triple Crown races in 1993 while riding Colonial Affair in the Belmont Stakes.  She was inducted into the National Museum of Racing and Hall of Fame in 2000.  In 2003 she won the Breeder's Cup race, another female first.
During her childhood, she rode show horses in Michigan.  Her first race as a jockey was when she rode Tiny Star in 1981 at the Tampa Bay Downs in Florida.  The next month, at that same track, she would win her first race aboard Lord Farkle.  As she continued to win races, her fame grew.  She became somewhat of a celebrity, making the late night circuit with appearances on Letterman (clip below) and The Tonight Show with Leno.  She even appeared on a cover of Sports Illustrated in 1989.  In 1993 she was honored with the ESPY Award for Female Athlete of the Year.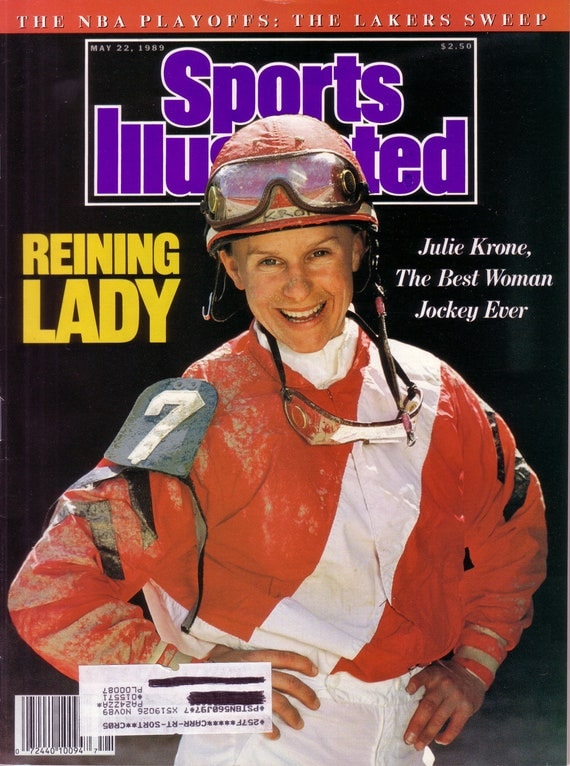 Julie would retire from the sport in April 1999 and move into the world of horse race broadcasting.  She came out of retirement in 2002 but the next year fractured her lower back.  She would return later in 2003 and win the Breeder's Cup aboard Halfbridled.  Weeks later she would fall at Hollywood Park Racetrack, breaking several ribs and severely tearing muscles.  She attempted a comeback in 2004 but did not win after three races. She released a statement saying that she was not officially retiring again, however, she made her fans feel that she would not race again.
She was inducted into the Women's Hall of Fame in October 2013.
I am fascinated by her story because when you think of a "male dominated sport", horse racing should be right at the top of the list.
When I was about sixteen (which was when Julie was making racing history), my cousin Creature owned a stable.  There was an older couple there who had a retired racehorse, Jimmy Nick. He was gorgeous.  Just…gorgeous.  When you brushed his coat it would glisten in the sunlight.  Gentle giant.  Amazing nature.  They were selling him for some reason or another.  I tried to work out a deal, utilizing what savings I had (some $600).  I tried to convince my aunt that I would trade out my services/labor at the stable in exchange for boarding the horse.  But Ola Jean eventually ratted me out to my parents and my negotiations were brought to a halt.  To think of having a career where you surrounded yourself with these amazing animals – it would have to be just glorious.
If you are interested in learning more about Julie, here are a few links:
https://www.britannica.com/biography/Julie-Krone
https://www.racingmuseum.org/hall-of-fame/julie-krone
https://www.womenofthehall.org/inductee/julie-krone/
Callahan, Dorothy M. Julie Krone: A Winning Jockey (1990) Dillon Press ISBN 978-0-87518-425-8